Page 6 of 8 •
1, 2, 3, 4, 5, 6, 7, 8

That's just luck bro,take some time,do not stay in hatred too long,once you reach 70,just go to terror,more fun there
Malthael




High Posting Cookie Monster

---

Posts

: 10009
100

---

Country

:

---



I have a question about "Double Orb" effect on Sacred Weapons~
we know that if the "999" orb works on a weapon then oil of luck can apply too, does the reverse order still work?
if it works, then on sacred weapons, we could use oil of luck first, when we do not get the lucky bonus, we should never use the "999" orb to waste the 2 level orb space~
Que-Hegan




Posts

: 117


Country

:

---



no not nessecerily, OoL has a 20% chance to work were as the Double MO has a 5% chance to work so you may get lucky but not double mo, but they both use the same part of an items string eg an item string was 000000015 and the OoL looks for <000000020 where as the Double MO would look for <000000005, so for an item with a code of 000000005 or less both will work (note items strings do NOT look like this this was just an attempt to visualise it please correct if wrong)
Arachnida




Posts

: 727


Country

:

---



@ish_

wrote:I have a question about "Double Orb" effect on Sacred Weapons~

we know that if the "999" orb works on a weapon then oil of luck can apply too, does the reverse order still work?
yes, it does
Follower of Akarat




Posts

: 1416


Country

:

---



no it doesn't, I just tested it.
it works sometimes, but not every time.
if the 999 orb double mo bonus works, then lucky, lottery and deity's bow blessing all work automatically. (or so I hope, it worked for like 10 times I tried it)
and deity's bow blessing works in parallel with lucky/lottery, so a bow with the 999 double mo bonus can get the lucky bonus
and
ITD
Creature of Flame




Bloody High Five

---

Posts

: 5572
none

---

Country

:

---



Follower of Akarat




Posts

: 1416


Country

:

---



@Arc_Razer

wrote:no not nessecerily, OoL has a 20% chance to work were as the Double MO has a 5% chance to work so you may get lucky but not double mo, but they both use the same part of an items string eg an item string was 000000015 and the OoL looks for <000000020 where as the Double MO would look for <000000005, so for an item with a code of 000000005 or less both will work (note items strings do NOT look like this this was just an attempt to visualise it please correct if wrong)
It's reasonable and it's the conclusion i want, thx.
Actually I wondered if the lucky rescipe will ruin the Double MO potential, and I just did not express correctly in my previous post
Que-Hegan




Posts

: 117


Country

:

---



we've seen stranger things in the game
just re-read what I posted, didn't mean to be harsh, should have worded it differently.
Creature of Flame




Bloody High Five

---

Posts

: 5572
none

---

Country

:

---



@BassToMouth

wrote:Physical Resists

- Colosseum. Available via:

Holy Paladin Skill

Alpha Centuar Reanimate - sLvl 5 Colosseum (hidden shrine craft & bless / maybe BPR charm too, not sure of renanimate pool on that charm)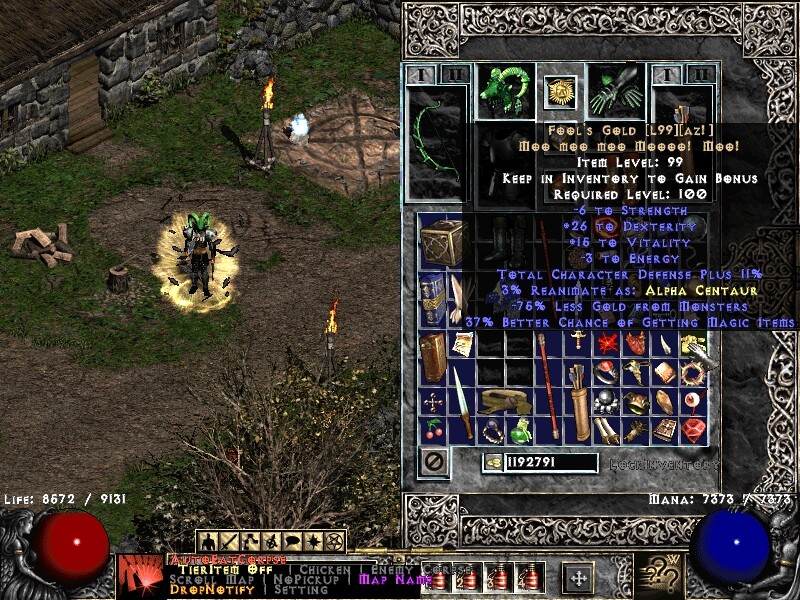 Curst Guard




Posts

: 738


Country

:

---



Page 6 of 8 •
1, 2, 3, 4, 5, 6, 7, 8

---
Permissions in this forum:
You
cannot
reply to topics in this forum