Page 5 of 13 •
1, 2, 3, 4, 5, 6 ... 11, 12, 13

more pics , pala rush deck is fun
priest with 2 water elemental and 2 flamestrike
_____________________
http://www.median-xl.com
BEST WIN EVER
_____________________
http://www.median-xl.com
Comparing this to MTG or even MTGO... Man... MTG is (one of) the best card games ever (and an incredible money sink...) and heavily rewards skill and practice. It's been going for > 20y now and is still very fresh. Loved it for the past 15 years at almost every lvl of competition from casual to GP and nationals... Hearthstone seems like a nice little game but is nowhere near mtg.
Heretic




Posts

: 168


Country

:

---



It's different. I played a bit MTG legacy and at some point it just becomes repetitive ... use all the op cards, play with your friends a bit, that's it... of course there are other formats like standard but that just feels like constantly get the new cards and spend money, and then competing against some random guy feels so awkward, I rather just play with friends and have fun chilling. I don't know about MTGO, I wouldn't even get into that really.

Hearthstone has some differences to that, one of them is that you can play it on the PC and play with anyone or your friends. It has some cool things like different game modes, and you can play draft outside competing, because I don't really see myself opening boosters with friends, thats way unnecessary money.

Also the graphics, golden cards, animations, all that stuff makes the games a lot more fun and sometimes you even forget it's a CCG. Cards make their sounds and animations, I just find it cool. And the final good thing is that you know the game will not die easily as it's a blizz game, and there are so many hardcore blizzard fans. Still unknown how fast they would make expansions and stuff because yeah new content is a must for it to be fun.

_____________________
http://www.median-xl.com
12-win no fire elemental/hex shammy (yes ofc I was 11-0, and then lost twice)
decklist, not all did fit, missing cards are boluderfist ogre, stormwind champion x3, venture co. merc
_____________________
http://www.median-xl.com
I rarely play ranked because I kinda hate to grind 3 win for just 10 gold, usually I only play once I have quest for it.

But seem like new patch is huge enough for me to go for some decent rank.
Marco seem enjoying ranked play more, that why he seem have better growth than me I guess.

Arena drafting is fun, but I still suck with it. I havent get any decent 6++ wins for past couple of 10 arena runs...


Since Im away from my pc during weekend, I just cant wait to test hearthstone on my recent-bought tablet-phone (galaxy note8). There arent much interesting card game on android that doesnt feel pay-2-win...
I don't play ranked much. Hell I don't even play that much...

Arena draft is really easy. There are even guides for it; telling you card rankings, cards you should always pick, etc.
Of course you don't draft a deck based on that. Personally I will mostly pick faerie dragons for example, due to the high amount of mages, and that card is a pain in the @ss for them. Other cards like amani beserker is good against consecrate. Things like that are very important to have in mind as pala&mage are the best arena classes atm. This means, 1-hp minions that don't have stealth/charge or cool effect, are a total waste vs mages. That kind of logic makes arena not too hard

Ranked is boring. Getting legendary isn't hard. I haven't hit it myself, but the strategy for it is very simple. The key is to hit it in 1-2 days. You need to know the metagame, which decks are being run. Then you need to make a deck that's an easy counter to it. Eg, vs rush deck, make a midgame deck. The other option is to run that same deck, but add some surprises to it.

A few weeks ago, rush hunter became unstoppable, and you could easily get top rank with it. Then people found out how to counter them, and they are decent now. Then a few days ago, zoo deck came out (warlock rush) and same thing happened, and its still popular today. So if you are able to know these decks in time, you can easily abuse that in ranked play to get a good rank. If you're able to nolife for a few days, so for me, nty
_____________________
http://www.median-xl.com
Well at least you couldve tweak your deck since you already have all cards
I still missing couple of important epic / legendary card.
Trump's playlist of free-to-legend mage deck is currently what inspired me now to play more ranked. (although I kinda dislike 1 month rank reset thingy)
I still suck at drafting rogue though, trump suggesting to make 2-mana-cost heavy deck, but I keep picking big beefy late game creature.... because of neutral ranking of them are higher..
Well if you excuse me I got couple quest to complete and couple of arena to run to.
there are a lot of budget decks that require no epic/legendaries and work decently, like mage, warrior. they were kind of mainstream for a while

why draft rogue? maybe you watch old trump videos where he used rogue a lot. But rogue isnt that good in arena.
Imo if you want to get decent arena runs, you need with a decent class.

imo pick mage>pala>shammy>druid>priest>rogue>warrior>hunter>warlock
Altho mage and pala are really boring. Druid kinda too. Priest is slow, shammy is fun. Rogue is frustrating. I think warrior can be good with many axes. Hunter & warlock probably the worst classes, kind of opposite to constructed.
_____________________
http://www.median-xl.com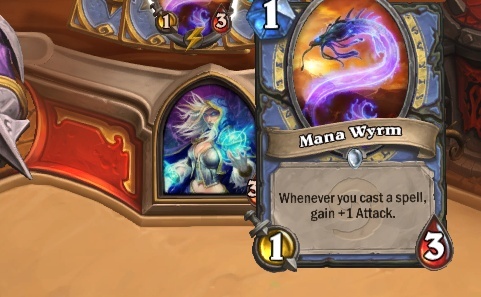 Bug still exist, but it recover quickly when there a movement at the board.
Mages, mages everywhere.
Currently 6-2 on my druid, just chilling around.
Edited:
another mage down, 8-2.
Edited 2:
sigh, killed by pally.
Page 5 of 13 •
1, 2, 3, 4, 5, 6 ... 11, 12, 13

---
Permissions in this forum:
You
cannot
reply to topics in this forum