Page 2 of 4 •
1, 2, 3, 4

@GregMXL

wrote:Yes the gift box gives the same items to each different character(ie. their own class specific item etc). Nice staff! I found two umos in the Den of Evil and the Blood Moor when I started new yesterday.
I only got two unique from blood moor
The Countess down! Almost got pwned by Deathstrike, forgot about it.
Another Unique Staff; Another shard.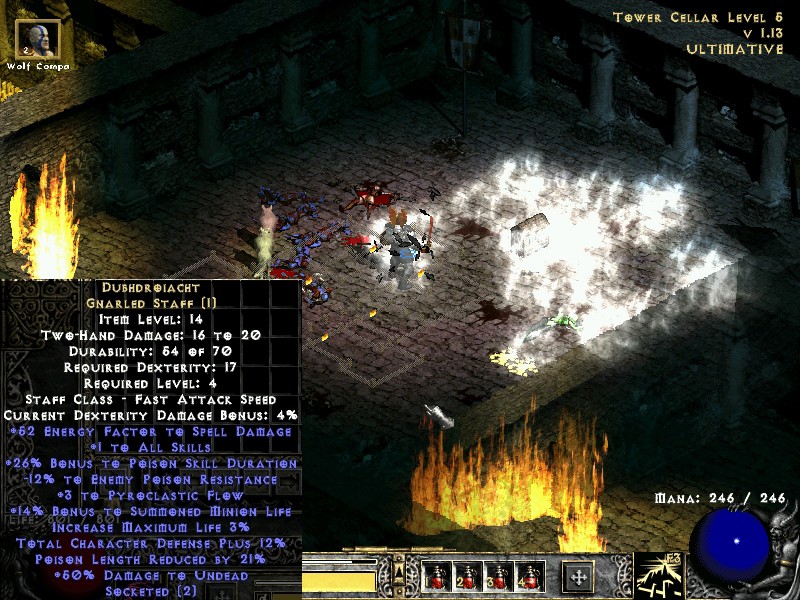 Going to look through the doc's and make some Runewords for my slots that aren't Unique (AKA Gift Box items, lol).
The Smith dead, Horadric Malus retrieved!
I got a Unique Fanged Helm, but forgot to screenshot (Sorry!).
Andariel also dead! Got a Unique Mace along the way to her, with a Unique Long Battle Bow dropping from the Maiden herself.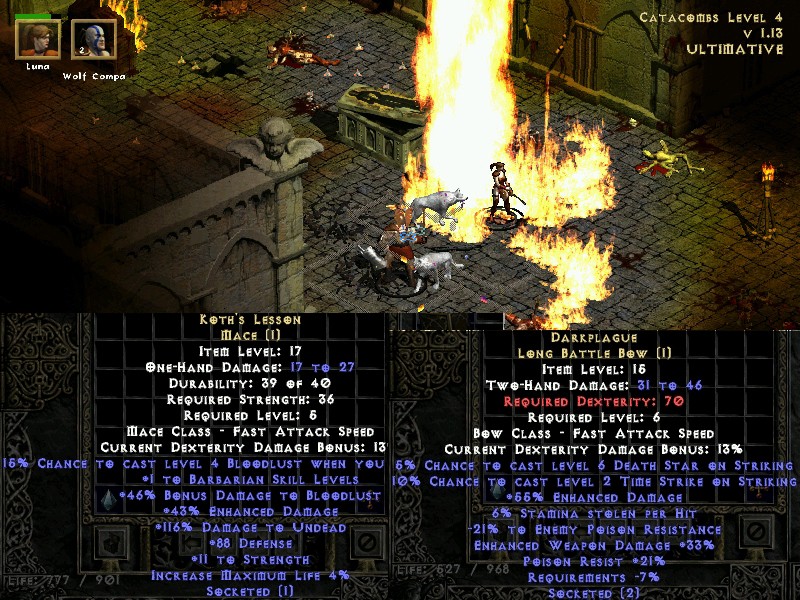 Anyone actually monitoring/watching my progress let me know if there's anything you'd like to see or want.
I'm thinking maybe posting my level in each screenshot/after each quest etc.
Last edited by WolfieeifloW on Tue Apr 02, 2013 3:36 am; edited 2 times in total (Reason for editing : Spelling)
I am as always,maybe next time you pass an act over do some challenge,post some stats&skill pictures,and maybe if you can, capture some cool in fighting pictures,i am doing an old annoying play through in guide section right now,i think only show ending picture is not that much fun,i was hoping you can work with mus01(fortress barb guide maker) and get a picture play through of a fortress barb.
I love this way of playing Median. To complete all three difficulties of normal game without this obsession to complete ubers and being untwinked: step by step and have fun.
Dark Lady




Posts

: 443


Country

:

---



What's the actual skill plan for your Fortress barbarian?
Snake route or LS route?
Also, in my gameplay I use dual wield Ith rw in weapon, and Rebel RW in armor...Ith rw in boots, and honorific ilvl1 gloves for more resistances... With that setup you can Mephisto in a short time...whitout being rushed...XD

Lastly, newbies finally can have 1 char played untwinked from begin to end..I think do 1 similar thing for SIGMA with my guide...However, SIGMA is far in the horizon...

Burning Dead




Posts

: 1040


Country

:

---



ofc,that's why fortress barb still hot,because easier for new comers

but why ith rw weapon for start?el rw or tal rw both ok,barb's thul weapon rw is also good
It has +skills and a lot of fire and cold resists . I like that too when i make dualwielder . No real reason to pick something else . I mean the old shark with 33% proc chance was fun but useless so better stick with something good . Maxed fire and cold resists are very nice to have
Bloody Butcher




Posts

: 484


Country

:

---



the ith scepters are very good,i used to use them when i play summon barb at start,never used them when my barb was melee,use a two hand axe with el rw till i get thul rw for a barb two hand axe......well,in ultimative there are no need for any of that,since you can get two Bul Kathos' Teaching if you want in Tristram

@MUS01

wrote:What's the actual skill plan for your Fortress barbarian?

Snake route or LS route?
Stance-dancing Fortress+Lion, and Titan Strike+Bear.
I haven't had any time to play, so no updates.
I will continue this Monday night though.
I think I'm only going to post gear upgrades, because posting every Unique is a lot of work (Read: Sewers).
Page 2 of 4 •
1, 2, 3, 4

---
Permissions in this forum:
You
cannot
reply to topics in this forum