Page 12 of 15 •
1 ... 7 ... 11, 12, 13, 14, 15

Vaal's rock/and that ground slam is phys base dmg, so u need armor for this (but remember that the more hard monster hit the less effective armor is), that blue beam is light dmg, so u need 75%(or more) light res. For the last boss, it require shitload of "caps" of all kind, especially cold/light res. the worst part is the 2nd stage of boss fight when he cast that fawking blood rain and u're outside of that bubble.
yeah GGG has terrible visual communication
Riot games would have a fit if they saw how bad it was

A golden shield around a boss dosen't usually suggest its a safe refuge against a deadly AOE attack
Theres also the fact that forcing players to walk into hugging range of an enemy monster is a really weird gameplay mechanic that defeats the purpose of being ranged in the first place.
Also hc chars have death sentence if they will step away from it's range.
But staying in it is also a death sentence.
Jungle Hunter




Posts

: 20


Country

:

---



@Violentin

wrote:But staying in it is also a death sentence.
As i complained earlier, 0 counterplay

Exactly.


At least against piety, if she really tough for you, you can dodge behind wall, kill her minions to regain charges and hit her while she is not in elemental form (I can perma-bash her to death!)

But most of the boss is trivially easy if you have full unique set on your char (those item seem tend to encourage twink since lvl requirement mostly based on skill gem)
Just got facebreaker TROLOLOOL

Lazy to post screenshot now.
I've got one with 745% meele dmg ;p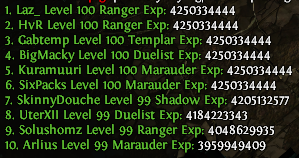 Laz, is that you?
Page 12 of 15 •
1 ... 7 ... 11, 12, 13, 14, 15

---
Permissions in this forum:
You
cannot
reply to topics in this forum