Using D2se, window mode, DDRaw, on TSW2 server
Start d2clicker as admin in the d2se folder after unzip, go in and it flashed D2 clicker is running", use the "\" key and im not hearing any beeps but the screen flashes "Text not Matched"

unprocessed file shows a screenshot that says "text not matched" over the top
processed file shows a screenshot that is mostly black and can barely make out that its a d2 screenshot
clicker-text is showing the item I used the "\" key on

.... no idea what im doing wrong here but from what I see in forums a while back a lot of people seemed to be having similiar issues with it, tried everything I read but didnt seem to change anything, any advice or help would be greatly appreciated.
there's a special launch for d2clicker if you're using d2se

but to be honest it works a lot better w/o d2se (you can have D2SE installed over MXL, so you can run mxl without d2se and with it)
_____________________
http://www.median-xl.com
Malthael




Führer

---

Posts

: 10178


Country

:

---



Thank you, unfortunatly I realized there was two differant launchers... and in my hours of fighting with it I have also tryed without D2SE and used the corresponding launchers. Same exact response from D2clicker with/without D2SE. I opened unprocessed in paint and checked my colors and the values are the same as in my .ini file, this program has me stumped.... any more ideas so I can take another crack at it tonight...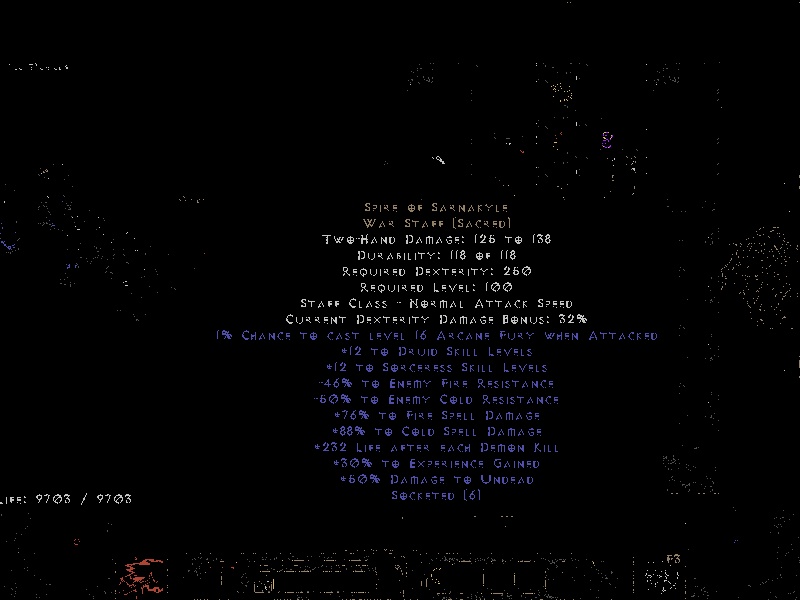 http://i57.servimg.com/u/f57/18/56/55/58/clicke11.jpg
A lot of people are having problems with this, sadly. I had it working for a while, but after I reinstalled everything, it no longer recognizes uniques.

If I knew some coding, I'd write a drop notifier/hider. T_T

_____________________
"Zu jeder Zeit, an jedem Ort, bleibt das Tun der Menschen das gleiche."
Creature of Flame




Bloody High Five

---

Posts

: 5572
none

---

Country

:

---



Thats unfortunate, well least now I know im not alone with this issue, at least the rerolling portion (the important part) works correctly. Wouldve been nice to have a drop notifier for farming though, suprised someone hasnt made a differant drop modifier already with the issues d2clicker has, but I suppose most people use Stings/Qoo on SP and a portion of TSW has d2clicker working so its not all that necessary
d2clicker works fine if you're not using d2se. It just requires some trial&error until you get the optimal settings, i remember getting several problems from it but were able to get rid of all errors (at least in winXP)
_____________________
http://www.median-xl.com
Malthael




Führer

---

Posts

: 10178


Country

:

---



alright, well back to the original question then, where would I start on getting text to match... I've tried everything I can think of and are more than open to any suggestions on getting it working

---
Permissions in this forum:
You
cannot
reply to topics in this forum