Page 2 of 5 •
1, 2, 3, 4, 5

@aspirine101

wrote:They have just about made hearthstone, the will make WoD, they will make a new movie, will make a completely new huge game...

suddenly blizzard became active, but all of those productions will be an excuse to "no titan next year"
Dont get your hopes up about the movie. Ive been doing that since 2006. There were once plans for Diablo movie where is it? Yeah in blizzard's basket of daydreaming.
Madawc




Posts

: 3629
Transferred

---

Country

:

---



Not really interested by the game
BUT THOSE DAMN FUCKING BLIZZARD CINEMATICS !!!!!!
Spike Beast




Posts

: 430


Country

:

---



i dont get it, its not like they have no fanbase alone that would watch a movie if they would publish it
but the thing annoys me the most is that those animations are best thing could happen on cinema but heard plans about real people playing orcs
than better no movie than no animation
The Butcher




Posts

: 5233
Transferred

---

Country

:

---



So anyone managed to get invited?
I just got it yesterday and been watching couple of others people game in youtube.
I dunno how hyped I am in playing this game (depending on lag or delay), but I just hope I dont need grind much like hearthstone (which i rarely play unless they release it on android).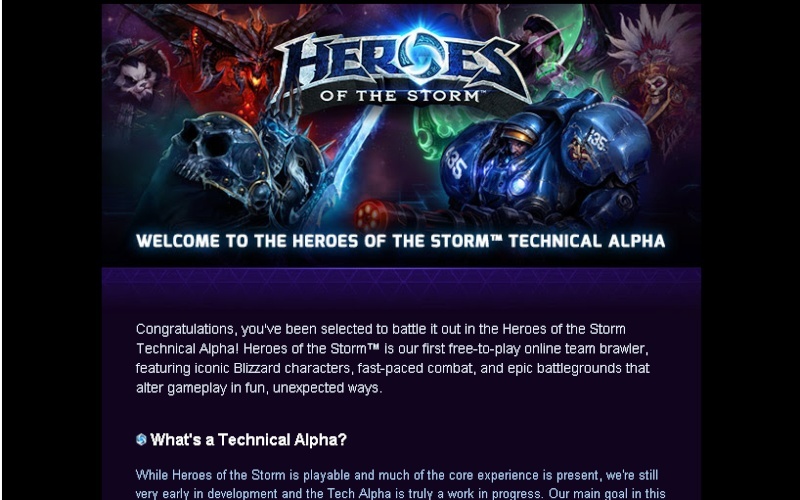 Malthael




Führer

---

Posts

: 10178


Country

:

---



At some point, people with invites get more invites to spread around.
You know what to do.
Care Bear




Flying Polar Buffalo Error

---

Posts

: 217


Country

:

---



you have to opt-in using battle net beta sign up.

I dont think they will give invitation code yet... until beta.

It still technical alpha.



So far the game kinda neat, it is emphasized heavily on team works and those objective mean that you will have clash quite often.

Heroes choice still limited at low level, im only bought 4. They have 6 rotation out of .... 30 heroes.


I will keep you in mind if i got it since you requested first.
I stopped playing this game because of reset.

Now since it already reset for final time:
http://www.polygon.com/2014/9/22/6825493/heroes-of-the-storm-alpha-wipe-blizzard

I guess i can start grinding again.

I didnt get any extra key though, despite i got another email said im invited into alpha.
Still waiting for my alpha inv ...
Gloom




Posts

: 12


Country

:

---



GL getting invited now that they have dem founders pack

Bloody Butcher




Posts

: 496


Country

:

---



Page 2 of 5 •
1, 2, 3, 4, 5

---
Permissions in this forum:
You
cannot
reply to topics in this forum