Page 98 of 100 •
1 ... 50 ... 97, 98, 99, 100

For Jday you should get a crafted/rare sorceress armor with Acid Fiends . Ice Elementals have defense and avoid so it is hard to get anything to summon .

Personally i like Grace (+Kur) Rw made with leech jewels and the TU armor because this 2 allow you to go by on very low strength ... like 80 str or so . You only lose like 5k defense .
Bloody Butcher




Posts

: 484


Country

:

---



Warning: verbal vomit. You are welcome to dodge as much of it as possible.
I
knew
those gauntlets were too good to be true. Damn you, trading! (future note: reference all trades against the offline docs) Well, if you're going to defy the rules of reality, YOU SHALL REDEEM YOUR SHAME THROUGH CRAFTING. (After I get more shrines. Blargh. I need to reach god mode faster so I can go back to sleepwalking Fautzinville again like my 2012 sorc :3) I was using lolsummons until I managed to get a drop for Edyrem summons, but I actually like that idea better. Acid friends (THEY'RE NICE K.) would have a higher summon count ... Hm. After dropping Zealot Rush my strength requirements aren't actually that high. It helps that the lower-end charms have some stats tossed in. I'm running base strength atm.
Also, why is Infernal Machine so hard, WHY IS INFERNAL MACHINE SO
HARD
.
I think I was actually surviving
longer
last night by just retard diving for the machine and mashing my LMB with Spiral Dance on. Just have to remember to reapply Moonstrike. WTB SU Battle Staff.
Slow! Be more OP! #untwinkedmeleesorcproblems
Spiral Dance build gets some amazing screenshots once it has the gear to ignore high monster volumes. Can't wait to get back to it.
EDIT: I think Fate is tired of me being dramatic because I don't have a screenshot of it unidentified on the floor when I found it. I popped over to 2012 to get a clear time comparison of Fautztinville. LOOK WHAT DROPPED. This is days ago and I still turn colours looking at this.
As a reminder, that's 2012, not MXL:U. ERGO: NOT HELPING. RAAAGH. WELL, at least I can stop using that Triune RW for heroic bosses? (SFX: Screaming rage)
Shredder




Posts

: 93


Country

:

---



Mission Accomplished.. 50 runs to get trophy for perf charm... thnx to my friends who help to craft jools , get some core item pieces , help me farming and such esp jun - aka korcola...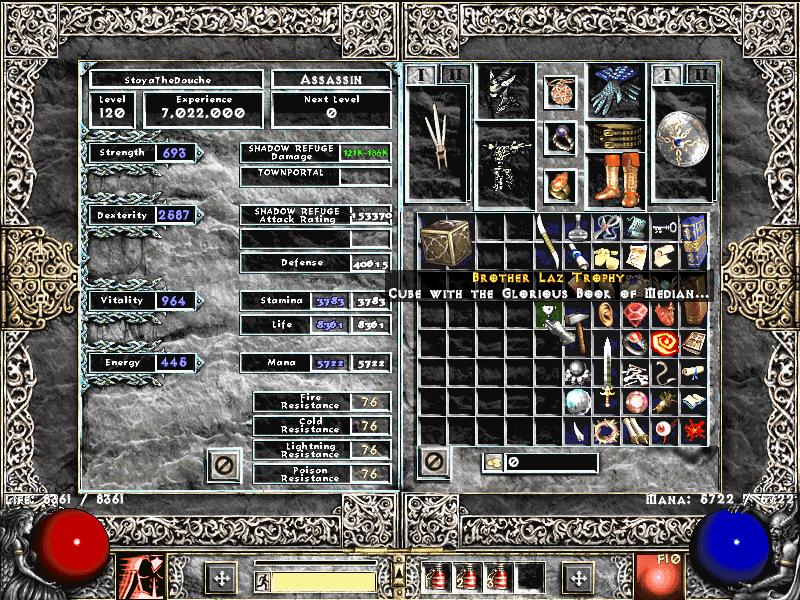 Darkwarden




do some research LOL

---

Posts

: 2696


Country

:

---



Well done, congratulations!
Shredder




Posts

: 93


Country

:

---



Couldn't be better than this.
Last edited by Wazuzu on Tue May 07, 2013 5:09 pm; edited 1 time in total
It could be better actually, with the same stats but 250% extra gold from mobs
Lord Primus




Islamic B&D Princess

---

Posts

: 8575
None

---

Country

:

---



Yeah, again gf... just throw it away, with low gf it is worth nothing
Curst Guard




Posts

: 738


Country

:

---



@Wazuzu

wrote:

Couldn't be better than this.
How many times did you try to get that?
Malthael




High Posting Cookie Monster

---

Posts

: 10009
100

---

Country

:

---



Around 50-60 in total. That was first one that was worth anything.
Page 98 of 100 •
1 ... 50 ... 97, 98, 99, 100

---
Permissions in this forum:
You
cannot
reply to topics in this forum