Page 9 of 11 •
1, 2, 3 ... 8, 9, 10, 11

im wondering you use Kra, Kur is much more fun
-25% dr but who cares
250-750 tri ele dmg
and best 50% earthquake on attack  
edit: what are u using on 2hand switch?
Mainly because of these:
+(2 to 4) to All Skills (I like +TAS too much, im weird that way)
70% Increased Attack Speed (not sure if it takes effect while morphed, but still)
Adds 750-1500 fire damage (synergy with Dragonoil)
+(25 to 27) to Summon Fire Elementals (I know, I have so many other, but you know)
+(25 to 27) to Way of the Phoenix (MOAR synergy with Dragonoil, if im not mistaken)
my off-hand? Nef staff runeword for blink which I used in Terror Fauzt - havent touched it since then

...
might use Kur necro dagger or Tu6 Mace
both have bloodlust dagger --> as oskill mace higher lvl but on kill means switch for while fight
I might try that, thanks - can I find somewhere what are the bonuses and duration on a level 24 Bloodlust from the TU Mace?
idk about bonuses
but its higher level, depending on char easy toget buff since i have to just switch weap for a sec and back
Yea, simple enough, will get it for sure
!
Now back to the topic of the thread: a new type of shrine found - enchanted - I was kinda surprised to see it, since there was no mention in the changelog.
Here are my comments, I'm 'slightly' tired so they're mostly lols and xD. Some of the changes in the patches are most extraordinary, kudos!


Secret Cow Level: removed Gift of the Wild cast (way too laggy), replaced with pounce. :: helps cow runs lag/disconnect less, but kills people more often, love it XDDDDDDDDDD

Diablo Clone: hopefully fixed. Can again be aimed by homing skills. Removed toy box. :: lol, no more Valk bow from toy box. xD

Level Challenge 0:  :: lol killed almost every utility from it, making it just a challenge (like it should be)

Ass:  :: New SKILLZ! yay

Dudu:  Decreased base run/walk speed.  :: XD Banshee

Necromancer - Slightly increased base run/walk speed.  :: XDDDDDD

Veil King: changed poison immunity to physical.  :: lol, op? XD

Paladin:  :: SKILLZZZZZZ

Lorenado: reverted animation to shoot books again. Oops...  :: XD Laz should be happy now.

Familiar: doubled aura range.  :: sick, will help a lot, especially when stuff changes level when going in/out of range.

Trinity Nova: added spell timer.  :: qq, not that I ever saw it xD

Hades Gate: greatly reduced lag.  :: yay

Gift Box: is now more randomized (still character specific!). No longer requires a town portal.  :: yay for lazyness

Adrenaline Potions: removed.  :: XDDDD was about time

Kabraxis' Stone: no longer unsocketable. ::  lol

Elemental Runes: now change the item's color.  :: coool

Magic/Rare items: can now be colored (like in cLoD) :: :OOO items/inventory/char look so much nicer now

Apples: reverted to their old cMXL state. :: YAYYYY!!!! <3   Love this for my barbarian.

Fixed NoDrop. ::  :OO

Uldyssian's Trophy: replaced blink oskill with +(1-5)% Deadly Strike. :: lol, is this because of that one topic/post where someone said there's not enough if DS in the game? xD

Sword of the White Void: added +777% requirements. (R) :: love the 777

Klaatu Barada Nikto: changed Hive charges to Hive oskill. :: :O <3

Added a few contest items. :: can't wait!

Removed character size limitations, and disabled Autoban bot together. :: OMFG :O

Improved Summoner AI (thanks whist) :: sick, I guess all uberbosses using it will be better now?

Starting statue no longer requires a potion to be cubed. :: lazyness yay

Rathma vs Mendeln: fixed charm upgrade req. :: ???

Fixed several 1437 errors. :: yayyy

Hunting Banshee: shoots through walls again, added 1 nd lawl. :: lol, I'm not sure which is worse to have: ND, or not being able to shoot trough walls, I guess walls

Summon Veil King: changed immunity to magic :: xd no so op anymore

Creature of Flame




Bloody High Five

---

Posts

: 5572
none

---

Country

:

---



So, this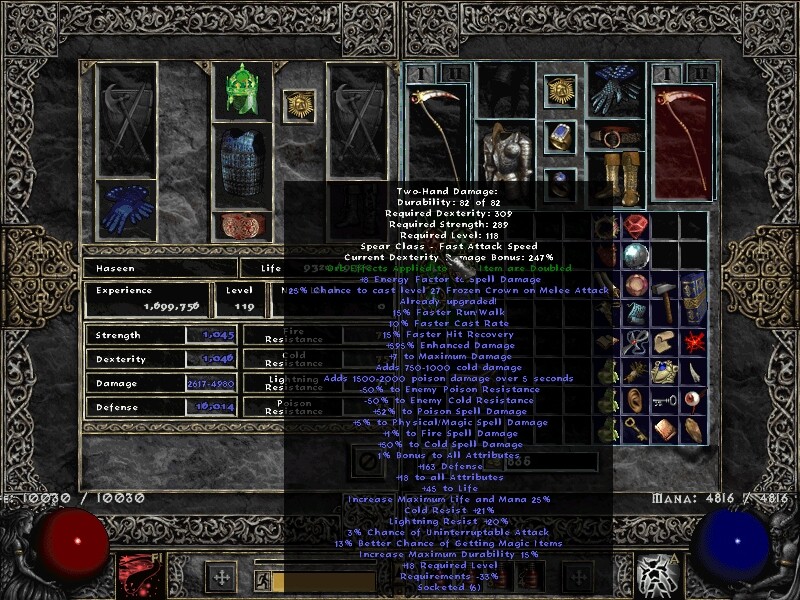 is not how it's supposed to look, right?
Are there too many pre-/suffixes or something so it doesn't display correctly?
Yep affix overflow. Its normal.
Howling Spirit




Posts

: 1956


Country

:

---



Quirinus sup with the xd's
seems you were stoned too

Lord Primus




Islamic B&D Princess

---

Posts

: 8575
None

---

Country

:

---



Page 9 of 11 •
1, 2, 3 ... 8, 9, 10, 11

---
Permissions in this forum:
You
cannot
reply to topics in this forum