Page 1 of 6 • 1, 2, 3, 4, 5, 6

Ok I need some help here. I have a lvl 50 SC paladin and another lvl 40 HC paladin. This is the first time I'm playing a paladin so I'm kinda stuck and don't know how to proceed.

Both builds at the moment are unholy caster ( tainted blood, mindflay, rapture, stormlord ). using apocalypse oskill from the staff 'the magister'.
Well here's the problem..

1. Mindflay sucks. It is just bad compared to anything from the sorc lightning tree. I don't know if it gets better later on but right now it does nearly nothing.
2. Paladins cast rate is terrible , even with rapture. It's just a big step down from a sorc.
3. Apocalypse is awesome. Thing is though, I played a sorc all the way through terror with it and I'm kinda bored. And the cast rate is real slow compared to sorc.

yes I know about the hierodule RW that transforms one into sorc. for better cast rate. It's just lame. I've already played an apocalypse sorceress, and it's way better than any half hybrid thing. I want to play paladin, not a sorceress.

also it seems way more dangerous than the sorc, there are no defensive passives ( TB is just regen ), and scourges are just bad compared to ice elementals. that's why I'm reluctant to proceed on my HC char. Died twice in LC1 with the SC char ( completed though ).

if I can improve the unholy caster build in some other way, plz let me know.


The second thing I'm trying is holy melee ( with my SC character )

I tried something like retaliate+colosseum but it didn't work. I don't know how retaliate even works..
We can have merkabah and VoJ skills but they are like offensive auras, not even melee really..

So I tried the dragon skills.

first problem here is that I can't put a skill point into Deva King. It says that you have to kill a baalspawn dragon so I spent half an hour searching for those eggs and killed it, but it still doesn't work? Unless you have to put the point in when sparklies are on? Though I could not have done it then because I was unholy caster build ( using respecs ). Really need some clarity on this issue.

also whats up with having to walk 5 miles on to flames to get a dragon morph that lasts only 10 sec? Seems lame/weird, will have to try it again later.


1. i dont get the this part " I want to play paladin, not a sorceress." its just an improvement till 90, than you can be paly and will be one of best looking chars ingame u will see with new morhp --> incredible/unbelieveable speed
2. meh im no fan of early game mindflay too, you have to decide slayer + apocalypse/mindflay its your decision
3. and you are right you can only invest points in the skill when having whirls
--> guidence for Deva:
http://www.medianxl.com/t3767-ttl-deva-king-semi-guide-hc?highlight=deva
The Butcher




Posts

: 5233
Transferred

---

Country

:

---



Like Str0b3l said, the Unholy Paladin basically sells his soul at level 90 and turns into a demon with the fastest cast rate in the game. You just need to be patient until then.

Retaliate only works once you've been attacked by something (as the skill name suggests). It has to be a weapon attack and not a spell, and the attack has to hit you (not miss due to your defense). You'll know when you can use Retaliate because your character will have small white stars on him (which are known as Retaliate sparkles). If you're in a situation where you can't use Retaliate you have options:
a) Use Hammerstrike instead
b) Run instead of walking (press R or hold down ctrl), this sets your defense to 0 and makes it so that every attack will hit you. Doesn't work when you're against monsters that only use spells.
c) Take the new Deva King passive and use the new Dragon Oath ability, it gives Retaliate sparkles on cast. The morph doesn't last very long because you usually don't need sparkles that much as a Retaliator. However if you max out Dragon Oath you can recast the morph often and it does good damage as well.
Amazon Warrior




I Am Someone

---

Posts

: 1738


Country

:

---



Thanks. I now understand what the retaliate skill does. It is rather good!
That guide and some other threads helped a lot. But really the whole walking on flames thing and needing to kill baalspawns is lame. It's not even that good, compared to say Deathlord necro morph.

Also what's up with hand of god str req? I'm at T5 and it already takes all my skill points in str even with 2 -10% req jewels..
Edit: I am soo over this dragon paladin crap. 5 sec morph + having to walk over flames = stupid. I don't care. At the very least the flames should have more aoe or last longer.

I will respec to max colosseum/retaliate and see how that goes.
If you find it annoying, that's fine. You could do a melee build just fine without the holy caster (now dragon) tree before, and you can still do it that way.

But you're missing some things about the morph -
It is fine if you miss the flames and lose the morph for long periods of time early game. Compared to the standard retal build before the dragon tree all that the skill adds early game for a few skill points is the retal sparkles so you can kill mages. Even if you miss it you can still use hammerstrike instead.
But the true power comes when you invest heavily into Dragon Oath. Late game the timer can go down very low and you can spam that skill for big damage if you use fire spell damage and -fire res gear. And because the timer is low you can morph a lot even if the duration is low, and you also get additional bonus damage from energy to any procs that you're using because the morph adds Energy Factor.

I find it a lot more interesting than old Retal build to be honest. Now if only melee sorc could be made engaging...
Amazon Warrior




I Am Someone

---

Posts

: 1738


Country

:

---



End game the timer goes down to 1 second and it does really good damage even on a full strength build with random gear and no socketables. You don't have to run a mile and a half anymore because dragon oath makes a flame everywhere it hits an enemy. You can't exactly spam it but it is a decent change of pace. Now if I could just double his defense...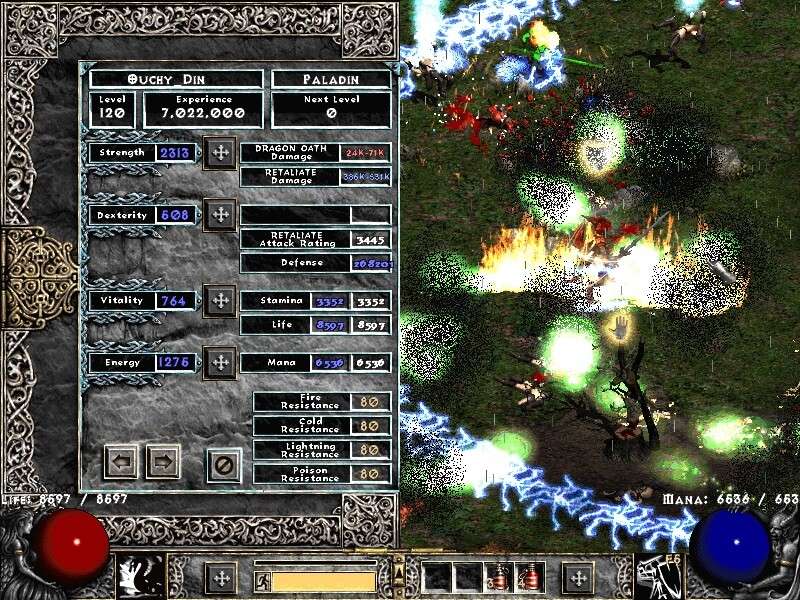 Bear Shaman




More brilliant than Chuck Noris!

---

Posts

: 1154


Country

:

---



Well it turns out that retaliate without having Deva King is pretty hard to trigger.
So I'm going to have to go back to dragon stuff.

Dragon oath is fine vs mobs but is irritating to use sometimes + I miss getting the morph, a lot.
What I'm saying is that this build is just not on par with things like melee necro or treewarden, which are much easier to use and just as powerful if not better.

Edit: I just realized, my retaliate attack rating is 315! How is it that low. Should I invest 100 pts in dex?
tb is just regen and defence boost
rapture just boost fhr, fbr and runing speed
stormlord just give u free vit and strength to use high defence items

Indeed, no defensive passives at all.
Corruptor Warlock




Posts

: 179


Country

:

---



@zaphodbrx

wrote:Edit: I am soo over this dragon paladin crap.
@zaphodbrx

wrote:I just realized, my retaliate attack rating is 315! How is it that low.
^epic
_____________________
http://www.median-xl.com
Malthael




Führer

---

Posts

: 10178


Country

:

---



Page 1 of 6 • 1, 2, 3, 4, 5, 6

---
Permissions in this forum:
You
cannot
reply to topics in this forum