Page 16 of 100 •
1 ... 9 ... 15, 16, 17 ... 58 ... 100

Daystars

Half a second later sprite limit
Bone Sorcerer




Posts

: 30


Country

:

---



Easy, Toraja!

Btw, MXL Utility ftw!
he's faded in an unlimited sprited medianiverse invisible to human eyes
Slain Soul




weaK

---

Posts

: 2349


Country

:

---



Oh in that case the center of the screenshot
New patch in duncraig:
First 5 minutes with amazon - bam: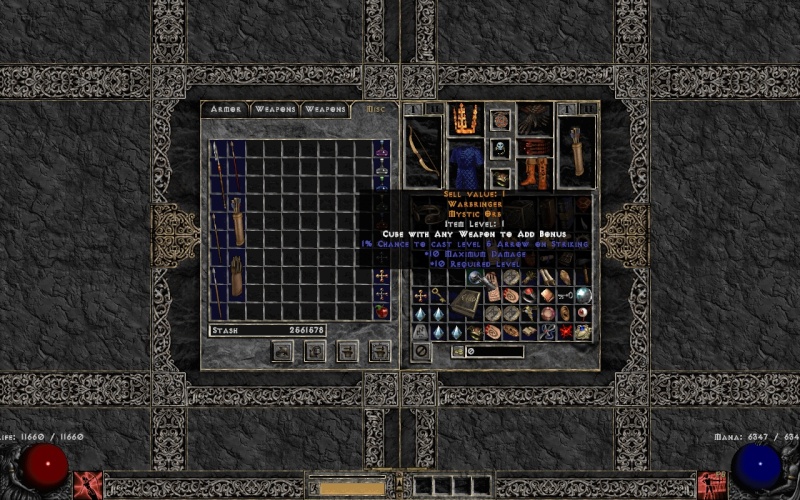 Goliath




Posts

: 2609
Transferred

---

Country

:

---



It was a lucky day of farming for me. I first lost my Mother Maiden Tiara while transferring (yes I waited 5 minutes). The server just got cut off and game no longer existed. But I later found Hellrain as well as The Grizzly.
I've never played a sorc, not to mention a melee sorc. I had AOTOR. What other gears or skills or builds would you all suggest? Thanks for the help!
(ps is the fire/cold spell % as well as blood thorns level low? can't find this in the docs so I don't know if it's a bad roll)
Bloodfire Rogue




Posts

: 63


Country

:

---



somehow that item suck
theres no source of getting life back, item has high dmg but its not like ur leaching with those skillz
The Butcher




Posts

: 5233
Transferred

---

Country

:

---



The Smith




롤스로이스 ☆☆☆☆

---

Posts

: 3320
Transferred

---

Country

:

---



probly because sorc has regen+flat life fire passive and def+%life cold one... if it had much leach it would be way to OP
Baal




Hairy Ass Argentinian

---

Posts

: 4939
125

---

Country

:

---



Page 16 of 100 •
1 ... 9 ... 15, 16, 17 ... 58 ... 100

---
Permissions in this forum:
You
cannot
reply to topics in this forum