Page 86 of 100 •
1 ... 44 ... 85, 86, 87 ... 93 ... 100

That awkward moment when you get a Godly SSSU weapon, it`s ETHEREAL!, and it has lowest possible Enhanced Damage -_-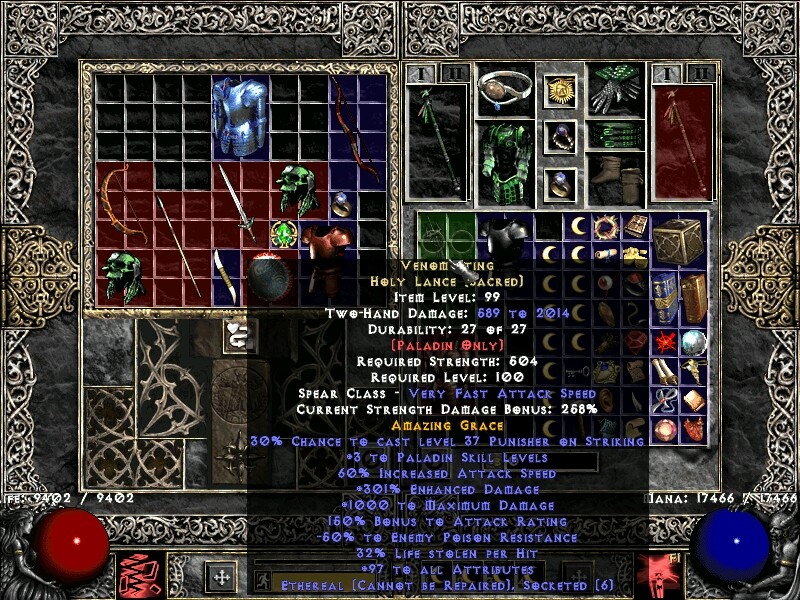 But you still can put 6 sha`ads there

350% ED would be 661-2140  
p.s.: 5 shaads and one jewel ?
Goliath




Posts

: 2609
Transferred

---

Country

:

---



6 sha'ads... dat SP mentality
Nihlathak




Huehuehue™

---

Posts

: 3927


Country

:

---



Not really. I find Toraja very easy farmable with creed set on a sin
.
i think 5 Kabraxis are more easy to get than Sha`ads.And more ED. Especially that I can`t MO it so can`t get over lvl 100. Don`t have any yet. And yes, 1 Indestructible Jewel.
Unless I find a divine melee COTW such as Shower of Rocks? Massacre? Takedown? (Since now I`ll rape everything in Fauztinville) with 800% MF
That`s gonna take forever. Last time it took me over 40 full Players 4 toraja runs to find 1 Sha`ad. I`m not gonna waste 1 month in Toraja to find 6 Sha`ads. At least sewers drop 2-3 SU`s per run
How? They summon slow, can`t tank shit.
Best is Wolf Stance sorc with Black Road Chalange skill to blast those bitches to minimize their damage so Edyrems get the chance to cast Sacred Armor. While Hive eats them alive
Kab runes are fine too but can't be unsocketed xD. Regarding the sin, I just summon in the back and blink forward, then retreat a bit and repeat the whole process. Sure it's slow but it's safe...while the knifes are proccing I can summon my edyrems relaxed in the back

.
First World Venom Sting Paladin Problems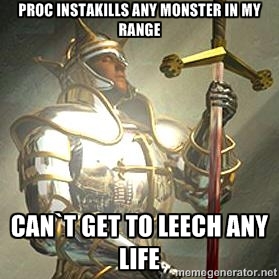 Page 86 of 100 •
1 ... 44 ... 85, 86, 87 ... 93 ... 100

---
Permissions in this forum:
You
cannot
reply to topics in this forum