Page 97 of 100 •
1 ... 50 ... 96, 97, 98, 99, 100

Yea I remember haxed life in cmxl and the value being the number not the globe. The mana was messed up but you have just refreshed my memory as to why. For some reason I thought the overflow line was around 26k but I'm sure 32k is the correct number. I mean you are whist. So now I am going to try overflowing my life
Howling Spirit




Posts

: 1956


Country

:

---



I send you the noob loop ring. It dropped in SP in version XII i think
Yea! I got a couple different ones of those actually.

@Marco so you gonna legit add "some" realm items so I don't have to be a cheater and use legacy items? Pounce nagi would be much appreciated along with any tried and true items from realm. It seems you are always creating more so there will still be exclusive content. Wasn't siggards revenge an old ass item that was replaced? Grand armor looks familiar too.
Howling Spirit




Posts

: 1956


Country

:

---



I can think of a lot of creative ways to answer that, but I'm staying with the classic "no".
_____________________
http://www.median-xl.com
Malthael




Führer

---

Posts

: 10178


Country

:

---



I screamed like a little bitch upon seeing this  

Spoiler:
Spike Beast




Posts

: 413


Country

:

---



Gratz
is it that rare ?
Dropped while making video about TA: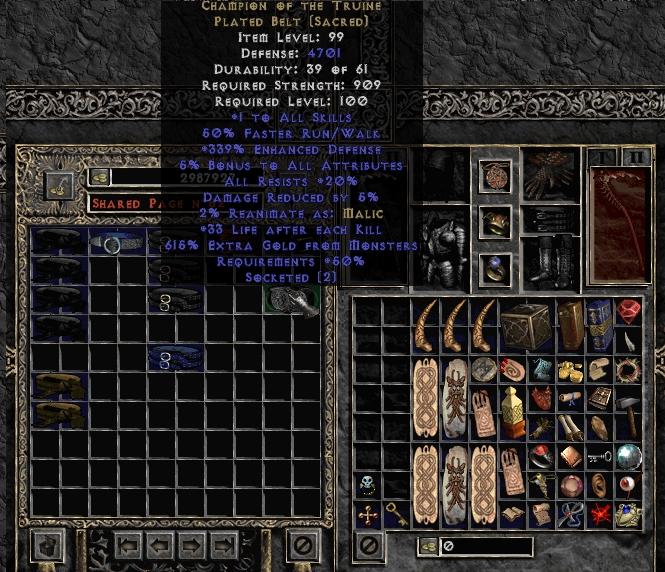 It is sort of rare

and a good one too
The Smith




Mr. Nice Guy

---

Posts

: 3338


Country

:

---



Yeah, usually sacred uniques have one negative feature to balanse it out, but this one looks nice. By the way i just made it with teleporting in Duncraig while using melee necro. It's only a start, but he survives well and already did couple of safe teleports:
Spoiler:
Even if he dies, the damage done moment before it is leaving big wide open space to recover body in SP (i have no set in MP so not doing it there). Only bad things:
towers and glow from parasite cover the vision and i miss barels
he moves too fast like squirell on double espresso, so i missclick on mobs
Necro can dodge things easily with angel of death

.
The Smith




Mr. Nice Guy

---

Posts

: 3338


Country

:

---



I think Melee Necro might be one of the more successful melee builds in the mod. Congrats.

_____________________
We mortals are but shadows and dust, shadows and dust, Maximus!
Zorun Tzin




Epic Admin

---

Posts

: 13835
Transferred

---

Country

:

---



Page 97 of 100 •
1 ... 50 ... 96, 97, 98, 99, 100

---
Permissions in this forum:
You
cannot
reply to topics in this forum