Page 1 of 2 • 1, 2

Hello, MXL community.

I picked up Median Ultimative maybe a week ago, and I absolutely love it. Atleast I did, until I hit Act 5 Terror. I can't progress past, or even get to, Nihlathak with my current setup.
Currently using: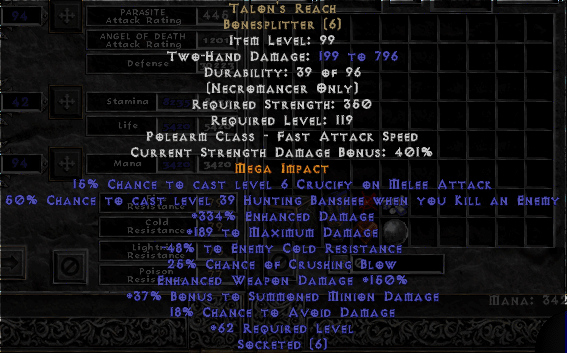 With 6 PSkulls, since I figured %ewd in the form of skulls would beneficial and ironic, considering the nature of the character.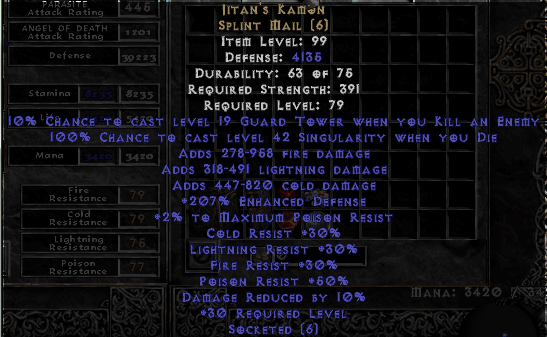 With one PTurqoise in it now, planning on and farming for six of them since res and max res never hurt anyone.
With nothing in it, really a placeholder, and one of the reasons why I'm asking for help. I think it's nice, but I feel like there's better out there.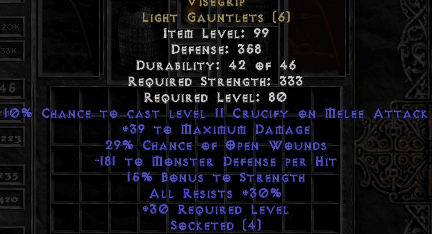 Planning on 4 PAmbers, but can't get my mitts on any.
Lovelovelove this belt, it's glorious. Not looking to replace my baby here, just showing you guys what he's decked out with. Two PBloodstones in it.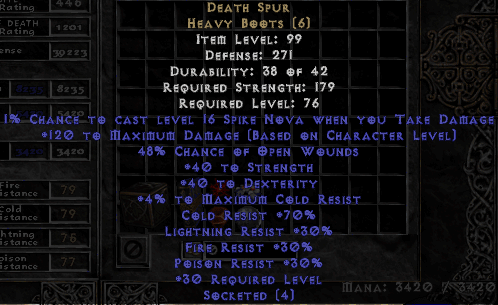 My glorious shoes, with two POnyx in them, looking for more.

Awesome ammy, best I've found so far.
As far as rings, I'm using two trashrings that I found running K3K, easily replacable.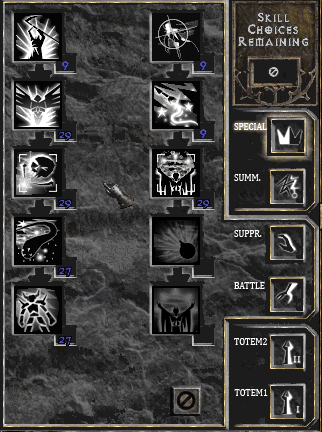 The skills that should be paying the bills. I've also got 15 hard points into Embalming for that extra life, and 8 points into Death Ward.
All that being said... suggestions?  
Fallen One




Posts

: 2


Country

:

---



You are level 120 and if you can find - use the melee set or just weapon. Best option - multiple towers that help you in every situation.
As for skills - max death ward - dodge + total defense, what else can you ask. Also 1 point in BRC skill if you can do terror fauzt. Angel of death - i do put one point only. Convienent to reach spaces far from you or jump in/out of trouble. Better put points from it into embalming and death ward.
For items:
amulet is lol

probably the last one i ever use on any of my chars.
http://www.medianxl.com/t1713-1d9-death-a-melee-necromancer
this thread gives some suggestions.
You will be using parasite most of the time so anything with "on striking" is good for you, for example SU gloves Facebreakers - give +1 hp on striking. Imagine your parasite jumping between mobs, leaching hp AND giving +1s every time it hits. Same applies for Jah runeword in circlet. Cham rune in boots is good choice early game.
Goliath




Posts

: 2609
Transferred

---

Country

:

---



Alright, so I respec'd, and I have a handful of points left over, and I... erm, have yet to do the Black Road Challenge. Heh. Maxed out Parasite, Embalming, Death Ward, Dragonfire Oil, Famine, and Deathlord. Still got eleven points sitting unused. One goes to BRC skill, but where to put the rest?
Fallen One




Posts

: 2


Country

:

---



You will have more +Max skill lvl later on but for now you could put a point in every summon and keep a void archon all the time for his nice debuff.  or you could put points in the passive that gives slow and reanimates ; not sure of the name, in the same column as embalming, the last one.

Edit: Also, you might have some trouble due to your really low attack rating. You could put some points in dex and/or put elds runes in your gear
Scaled Mutant




Marco's Favorite

---

Posts

: 902


Country

:

---



LOL that AR... Get TU chain gloves and put some points in dex
Curst Guard




Posts

: 738


Country

:

---



I would replace some items like amulet, get good rings and generally good procs. For this last point consider Chthon rw as your weapon:

25% Chance to cast level 10 Crucify when you Kill an Enemy
25% Chance to cast level 5 Tremor when you Kill an Enemy
+(151 to 200)% Enhanced damage
+200 to Maximum Damage
(21 to 40)% Chance of Open Wounds
Enhanced Weapon Damage +100%

For amulet, try to roll a +2/4 skills with Lighting Arena oskill, always useful for crowd control, expecially for a melee char. Also reroll rings with +1 to all skills and some nice bonuses that fits your char.
Last edited by bardamu on Fri Mar 14, 2014 9:41 am; edited 1 time in total
Mangler




Posts

: 107


Country

:

---



put 100 points into dex and you'd probably be fine again. Your AR is abysmal. You can get an honorific item in place of either your gloves or your boots and slap stats + resis into it. Remember to also get lots of FHR and FRW. On jeweleries, MO stats onto them so you have lots left over to put into dex. I would prefer you to MO dex onto the rings and amulets so that you get decent AR.
Mangler




Posts

: 100


Country

:

---



I'd honestly recommend Pul runeword Gloves and sacred yellow boots with +1 Necro skills (bearing some nice stats and resists too)… Potions of renewal will do until you'll find some shrines along the way...  
..that chance to hit monsters should be maintained as suggested above  
..done quick run to Dest with Necro just two days ago and the
xbow
with summons, one totem and reanimates+slow from skill tree might make U yawn a lot in terror…  

This melee Necro needs a bit more attention at later stage with SUs or the full set ...imho  
Edit: Jitan's armour is just overrated… only useful on death  
Cathedral Drow




Posts

: 526
7

---

Country

:

---



If you have the patience for it get yourself a rare necro staff with +12 necro skills and the hounfor oskill on switch to prebuff deathlord. Then you can lol at the though of putting points into dex. Ditto on making a chthon runeword.
Bear Shaman




More brilliant than Chuck Noris!

---

Posts

: 1154


Country

:

---



Skip nihlathak, hes almost like a hard bonus level on mxl pre-uber, its almost like an unofficial challenge. Its especially harder for melee characters. Iirc some people were saying rathmas chosen skill helps for farming him

Id suggest doing brc when you get lvl 120 and maybe when you upgrade some gear or get some easy charms on destruction difficulty.

I also suggest skipping a4 forge (fucking huge ass map on higher difficulties, for 0 reward). Just keep in mind you dont have to kill/do everything right away. (Except level limited challenges, i guess) if a monster pack is hard, just run past them if the map allows it.

Btw, im impressed with your knowledge, progress, approach and attitude if you started just a week ago. Most people would be fumbling blindly, failing, get stuck, not search the forum or docs and would post one line new topics. Kudos!
Creature of Flame




Bloody High Five

---

Posts

: 5572
none

---

Country

:

---



Page 1 of 2 • 1, 2

---
Permissions in this forum:
You
cannot
reply to topics in this forum