So i`m reading many posts about how everybody is farming fauzt, yshari, duncraig, tran athula. Have seen a lot of posts that tran athula is dangerous an should play carefully. But with my traprat i go there with 67% block and 5% chance to hit me and only thing i have to worry is that thing they cast with many arrows. But i can survive that losing about 12k life (total ~17k). But i want to start farming fauzt, duncraig, cause i haven`t gotten any good SU`s, so may be my next step would be farming some runes.
In fauzt necrobots are just nightmare. 6 necrobots and i don`t even have a chance to cast one quill storm. So what can i do with them?
In duncraig even with my block i die in a second not by barrels but when teleporting in to the group.
So i thought to craft something for poison and fire, so that the poison can kill somebody with immunities to physical and fire. Of course i`m not asking for 500k damage that angel heart does, but can i craft something in damage direction? And fire could be switched to cold. I chose fire because of eggs. (and Easter eggs are coming

:D:D)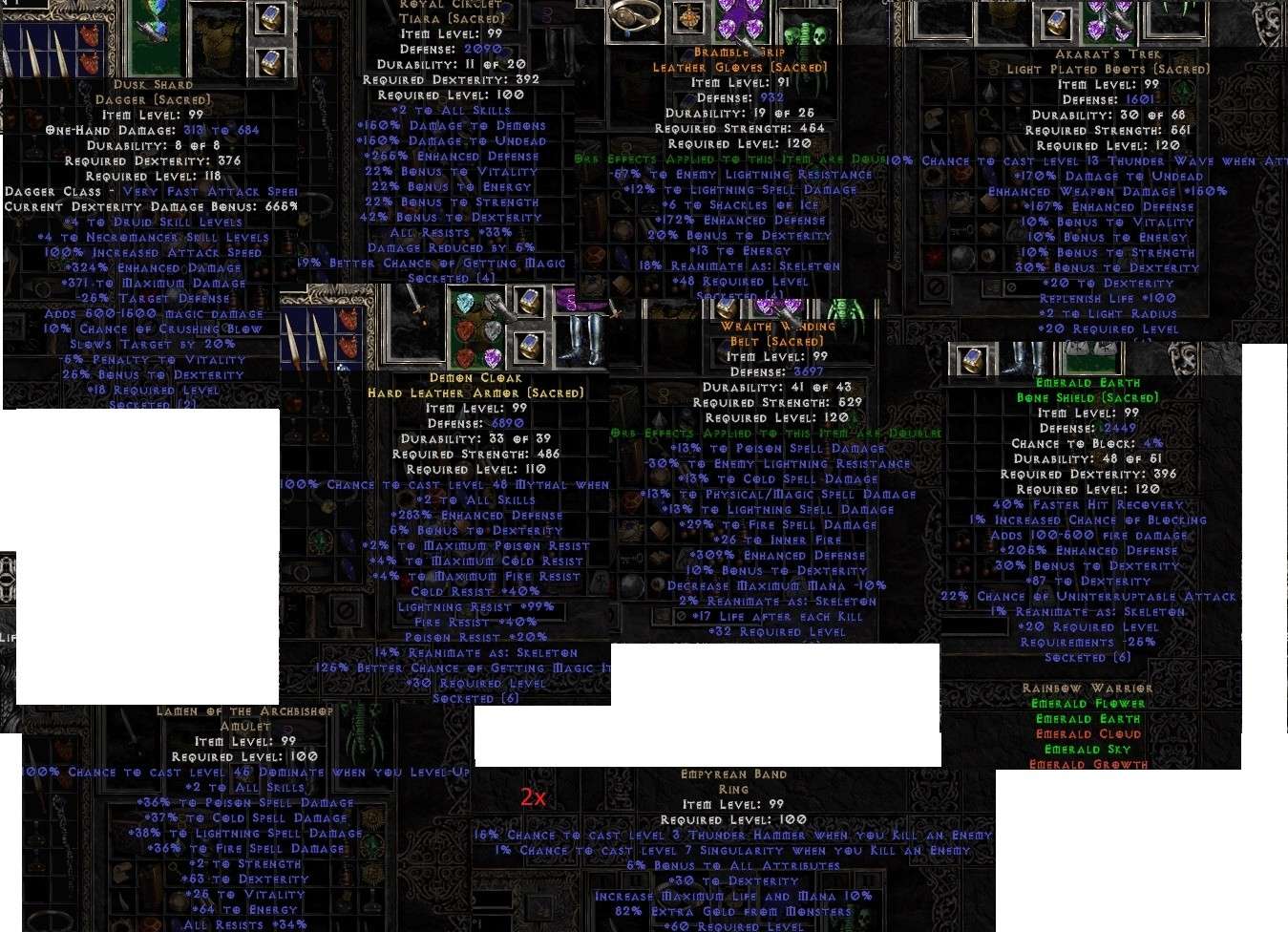 Actually while posting i see that i don`t have much lightening damage because i thought i had 1-1500 from some amu. So may be my amu is totally useless?
But any ways force of natures also adds something. But i was wondering is there a point to spend all my equip for -enemy resistances?
I have elemental runes also to add some damage.
Here are two of my additional daggers(can`t host the picture
):
Raven skewer blade (sacred)
Damage 603-604
Req level 66
286 %ED
+295 min damage
+191% to AR
+317-935 cold damage
+20% to strenght
+98 life
3 sockets
Eagle needle blade (sacred)
Damage 275-276
Req level 66
15% chance to cast level 38 searing glow on melee attack
+195 min damage
+1-852 lightning damage
+100 life after kill
target takes additional damage of 119
98% better chance to find magic items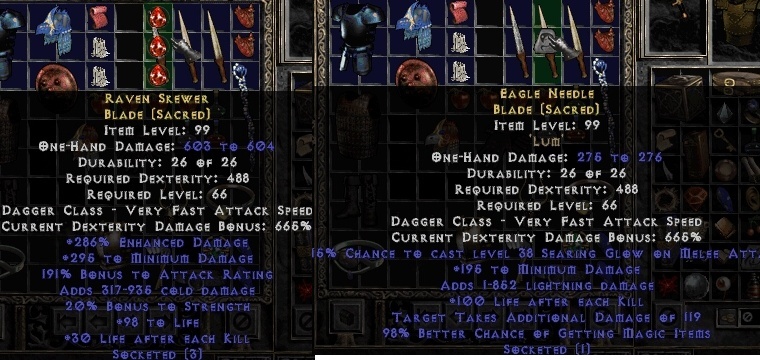 So where should i go from here?
And what do i get from +skills? May be i should focus on something else?
Last edited by wizinjsh on Sun Apr 06, 2014 9:03 am; edited 2 times in total (Reason for editing : link; added pictures)
Hemoplague




Posts

: 129


Country

:

---



You need more specific gear. Don't listen to the guides… They sometimes don't make sense. They show like a trap rat or something with average gear doing all of Fauzt. I can barely do Fauzt with my unholy melee paladin with all SSSU's. The key is do get damage reduction and as much block and life steal as possible. Either craft something with those stats and elemental damage for necrobots. Goodluck and hope you find something because i haven't lol. Unless you are a barb with bear stance 5 billion armor or a sin with 101010% dodge it's going to be harder to figure out a way but it's possible.
Kill Rat




Posts

: 1


Country

:

---



my guide shows fautz can be done easy by trap rat, check it out
Horadric Mage




Posts

: 1366
Transferred

---

Country

:

---



You should just do things at a really slow pace. Use the hit and run tactic or divide and conquer until you get better gear. I mostly don't like following guides here since most of them would recommend for you to wear a set. Don't they know that farming the set itself is a nightmare? The rng gods can play with you and you might obtain all the set of all the class multiple times except the one you are looking for.
Darkwarden




Posts

: 99


Country

:

---



For myself I only run Trap Rat Druid and have had similar problems, but I also had small pieces of the set too. I would recommend (farming k3k with a different character for set pieces) or duncraig but do it very slowly though. If you have access to two pieces of the Community Set (preferable the boots for psychonic scream which makes anything struck by that blast flee for a couple seconds), that will really improve survive because of wolf stance adds to your increased speed which will help avoid barrels. If you don't, then simply use some type of summons if your having trouble in the entrance. Learn to kite since that will be key for dunraig farming and reanimates help keep mobs at bay.
Look at
IVIikes Trap Rat Guide
, its really useful and and good reference point 

Gloom




Posts

: 12


Country

:

---



---
Permissions in this forum:
You
cannot
reply to topics in this forum