Page 1 of 9 • 1, 2, 3, 4, 5, 6, 7, 8, 9

[MXL:U XIVb] The Homeless Bitch
A Poison/Cold Kickstarter
---
---
A little Introduction:
This guide is a special Kickstarter Sorceress guide for new players/lazy players who DONT want to farm early gear.
What's it got different? all you got to
"
farm
"
is money and Gift boxes at the beginning of the game.
i want to make a completley begginer friendly guide, so suggestions on what to add will be appreciated.
THIS GUIDE REQUIRES READING AND PATIENCE, SO DONT EXPECT A "GET THIS GEAR AND HAVE FUN" GUIDE.
this build was built in Hardcore, so you shouldnt die at ANY point.(no pressure, just for those who want to have some fun in HC and want some adrenaline rushes. it will have some comments and specific HC gameplay.)
Work In Prigress:

I know the The Format still sucks, i will go editing it as i can. i need to post it before its finished so i can give it some shape(im stealing a piece of formating to each one, so dont get all "you copied this, you copied that" on me. have fun!

---
Start: You are naked with a staff and a crappy armor. Get used to it. go  out to the Blood Moor and get to lvl 2.
once you get to lvl 2 things turn easier. Put one point into Lorenado and rape thos Flits. Get to lvl 5 (dont get over excited and go over this lvl) and go back to town with a Town Portal. I recommend you go a couple of yards away from the enter of the Rogue Encampment and summon Volrath with your transmuted Median Statue.
The skillplan at this point is 2 Pts. Lorenado 1 Pt. Shatter the Flesh 1 Pt Moonstrike. All stats go to Energy(This will be so, untill we need to use Sorceress Armors or Uptier the Staff)
The easiest way to kill volrath is standing at the edge of the cirle and aiming in the direction where the Lorenado will hit more Traps. Cast two or three, run, cast again, run. that way untill you break all the Traps. Like This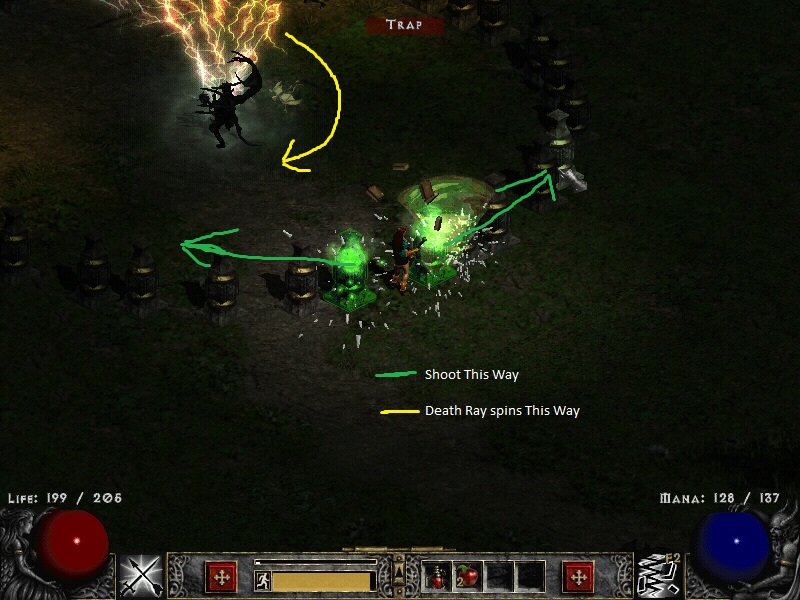 Once all the traps are gone, repeat that same process with Volrath. Dont forget Lorenado lasts for one second, so you can cast, run for a second, cast, run, cast, run... and so on till he dies. once he is dead, try not to run brainlessly to the Gem and the gem, but keep running untill the beam dissapears. 30 seconds are a lot of time for you to do it. Redo this untill you get the 10 to All Attributes and/or the monster you desire.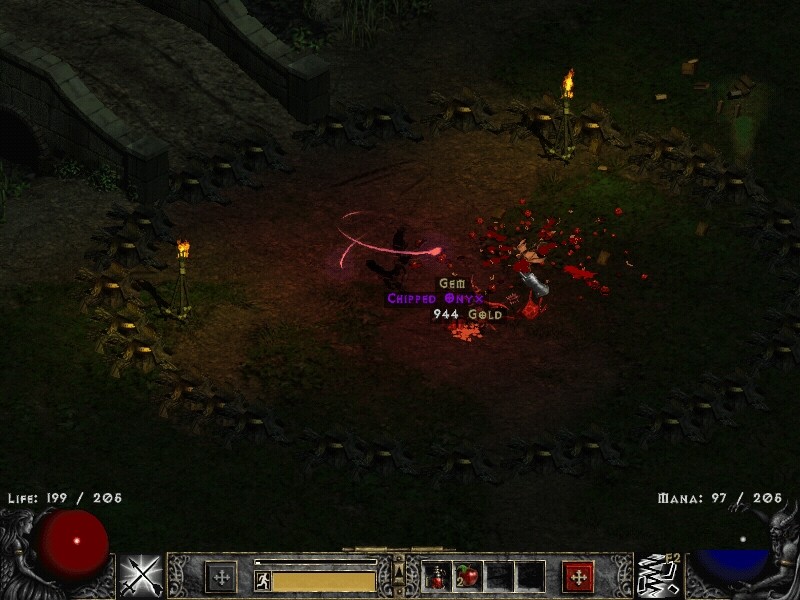 Once this is done, the FUN part begins. We are going to hate people who ask for rush, cause asking for rushes and Tcows is too mainstream. We are going to play on our own/whith other low levels because we actually enjoy the early game. We go do den of evil and pick up a Character Orb (THIS IS A MUST FOR THIS GUIDE. WITHOUT IT I WONT GUARANTEE ANY FORM OF SUCCES). "what do we want that crap for?" we want it for the defense, Resistances and Blink. So, what we are going to look for are:
Skulls (+50 Defense)
Ith Runes (+5% Total Character Defense)
Turquoises(+5% Poison Resistance)
Bloodstone(+5% Fire Resistance)
Onyx(+5% Cold Resistance)
Amber(+5% Lightning Resistance).
Cube the Median Statue with it to get 20 charges of Blink(DONT FORGET YOU CAN REPAIR THIS WITH THE REPAIR BUTTON, IT WONT REPAIR WHEN YOU CLICK ON "REPAIR ALL EQUIPMENT")

For starting gear you can do two things: use the Gold Signets to buy: Leather Gloves, Boots, Sash and Cap. Make sure they are your size, cause you will be using them untill lvl 120. If any of those is NOT magic nor socketed, dont make any trouble, the recipies for making those two are awesomly cheap.
Socket Punch

Use this recipe to add extra sockets to an item. The more jewels you feed this recipe, the more sockets it will create.

Non-socketed item + jewel x[1-6] → returns item with [1-6] sockets
Warning! This recipe will not go over the max natural sockets an item can have. Lower tier items have a lower socket count. Excess jewels are wasted. You also cannot add more sockets to an item that already has some.
Upgrade to Magical Item

Upgrade any plain item (white or grey) to a basic magical item.

Non-magical item + Oil of Enhancement + rune → reroll item as magic
Get Two lvl 0 Rings and a lvl 0 ammy too(this will be important) you can gamble them if you are awesomly rich (which given the fact you are playing a homeless character, i guess you are not) or you can just wait for them to drop.
OPTIONAL: as soon as you put your hands on a Nef rune, you will socket it on any staff to get a nice +1 all skills and 20 charges of Blink (you should already have that from the Character Orb anyway).
Pax Mystica
Level 13
Staves
+1 to All Skills
All Resists +(11 to 15)%
(21 to 25)% Better Chance of Getting Magic Items
Level 1 Blink (20 Charges)

And if any of the items you bought are socketed, you can put a jewel, to get the "Secret Jewel Bonus"
Ok, we should be arond lvl 13-15 by this point in the Stony Field. At this point skillplan goes on as usual, max Lorenado, the rest one pointers.
[dont forget to use the hotkeys, as they are very usefull. What i use on my Laptop(this is actually important) F1->Shatter The Flesh F2->Abyss(as soon as we get it) F3->Frigid Sphere F4->Mana Sweep(as soon as we get it) F5->Town Portal F6->Ice Elementals(as soon as we get it) F7->Familiar F8->Hive X->Blink C->Rapture(be patient, you will see what, where and when)]
It is time to go save Cain, so just run to the Dark Wood, get the WP and the Scroll and go talk to Akara. dont forget to kill the most Cave Snappers you can, so you get some gold.
Time for the Farming. Go to Tristram, and kill kill kill. kill everything for moar Exp. as soon as you turn 18 get the Ice Elementals that will make it even easier. make a few runs till you get to lvl 20 ~. Now what are we farming? what are we looking for? Mainly Runes, emeralds and Gift Box. Any uique will be welcome, but not necesary.
We want Runes to get Gold ---> socket it in a Throwable Weapon and be a little bit moar rich. (apples are good to sell too)
Emeralds-> we want this so we put them on our mule's Character Orb(yeah, make a mule or if playing in SP, get the extra Char Orb on the PlugY's Shared Stash). What is this for? once you get to 15 Emeralds, the number 16 you cube will be given back to you in a RANDOM quality. (that means that if you cube it a couple of times, eventualy a Chipped Emerald becomes a Perfect one).
Gift Box-> We are looking for a Staff that is the only Unique we are going to use in this build.

Dubhdroiacht
Gnarled Staff (1)
Two-Hand Damage: 16 to 20
Durability: 70
Required Dexterity: 17
Required Level: 4
+(36 to 60) Energy Factor to Spell Damage
+1 to All Skills
+(21 to 50)% Bonus to Poison Skill Duration
-(11 to 15)% to Enemy Poison Resistance
+(1 to 5) to Pyroclastic Flow
+(11 to 15)% Bonus to Summoned Minion Life
Increase Maximum Life (3 to 5)%
Total Character Defense Plus (11 to 15)%
Poison Length Reduced by (21 to 25)%
+50% Damage to Undead
Socketed: 2


OPTIONAL: If you happen to find a "The Magister (Long Staff)" it gives a quite usefull Oskill, "Apocalypse" that will come handy for a while.
You can also get a T1 or T2 "Nightscape (Lamellar Armor)", which you can use untill we get our nice new Armor.
---
Lvl 20: our first checkpoint here. Go buy socketed Throwing Knifes/Axes (if you came across any jewel, use them to punch sockets onto the non socketed Throwing Knifes/Axes) socket the runes and sell them. we will get a maximum of 10k on act one, so we will need to sell many(if akara has no socketed, go out of town and come back in, it wil reroll the vendors inventory). once we have 50k we will buy a Sacrificial Heart and a Meditation Candle. Turn any of the suggested gear (Boots, Leather Gloves, Sash or Cap) into Honorific by transmuting it with the Heart and The Candle(make sure the item is MAGICAL(blue name), if its not it wont turn into Honorific).
Reroll Magic to Honorific

Honorific items are blank items that receive a double bonus from Mystic Orbs. This enables you to create your own custom items from scratch, provided you have some money to spend on the ingredients and the Mystic Orbs.

Magic weapon/armor + Meditation Candle + Sacrifical Heart → return item as honorific

Honorific items have no modifiers except:

Orb Effects Applied to this Item are Doubled
Socketed: [maximum for that item]

Once we turned the item into Honorific, we will cube it with 10 Mystic orbs of 5% Faster Run/Walk, making that 100% faster, and allowing us to WALK at a high speed without loosing our Defense.
---
Now to Act 2. Just run and kill, use Lorenado to kill the weakest monsters and to poison the rest, then shatter the flesh like a madman. it should be taking 2 or 3 seconds to clear the screen(pay attention to drops).
Ok, now we are in Act 2 and the good news is: Sewers and new cap for gold! 30K is a whole new story, but requires better runes(who cares, not as if they had some other use). Before going anywhere, we will make our second Honorific item and get all resistances up to 75 (dont forget the Character orb)
we will now do a couple of runs in Sewers untill we get to lvl 30-35 (untill you feel like moving on), keep cubing ith/skulls and Resistance Gems. Now is time for more cubing. go buy 45 "+25 defense" Mystic orbs and cube them with your lvl 0 rings/amulet. OPTIONAL: you can cube them with Oil Of Luck to get +10% spell damage(Ring)/+1 to all skills(Amulet)
If you happen to get "Ring of Disengagement", this is an awesome alternative, it has req lvl 1 and some good stats that will obviously be better than a lvl 0's (Ring of Truth can be used too, but lvl req goes up, and makes it hard for our MO planning.
As soon as you start getting runes you can do 2 things: upgrade them till we get a Sol Rune or sell them to turn the rest of our gear into Honorifics(all except armor and staff).
When we get our hands on a Sol Rune, we will socket it in a Sorceress armor. If we used TU Lamellar Armor, all we have to do now is disenchant it(with a Catalyst of Destruction + Rune), cube it with two Oil Of Enhancement and if you are way too perfectionist, you can use Oil of Renewall to get a good roll, and cube it with Oil Of Luck for upgrade(+ED +DR)
Explanation on how to make a good RuneWord:

The steps for a good runeword are the following:



Get the desired base item of ANY quality.

Burn all magic from the item with the following recipie:


Affix Burn Recipe

This explosive alchemical combination burns all magic off an item, returning it as a basic low quality item. This recipe is useful to prepare an item for a runeword.

Any item + Catalyst of Destruction + Rune → reroll item as low quality + Catalyst of Destruction
Warning! Do not forget the rune or you will destroy more than you bargained for.



Cube the new low quality item with an Oil of Enhancement twice to get it to Superior quality

Reroll untill you get the desired base modifiers for the Item(in this case, we want enhanced defense) with an Oil of Renewall
Make sure it has no sockets or the ammount desired, because if the item has one socket and we want 2 sockets, we cant add another. if the item has no sockets, we will add them with this recipie:


Socket Punch

Use this recipe to add extra sockets to an item. The more jewels you feed this recipe, the more sockets it will create.

Non-socketed item + jewel x[1-6] → returns item with [1-6] sockets
Warning! This recipe will not go over the max natural sockets an item can have. Lower tier items have a lower socket count. Excess jewels are wasted. You also cannot add more sockets to an item that already has some.



once we have the desired modifiers and sockets, we will cube it with an Oil Of Luck Aiming for the Enhanced Defense and the Damage Reduced by 1% modifiers.(optional, but it always helps)

if the Oil Of Luck doesnt succeed, we will repeat from step 4 untill we get the base item we want.

Once we have the Perfect item, we socket the jewels (number of sockets - 1) and then our required rune.

And we have our RuneWord.

Now we have Rapture and a nice Defense due to the Skulls+Ith on the Char Orb, the Rings/Amulet, The Elemental's Aura and Snow Queen, so we are starting to turn into killing machines. The next thing we need to do is to turn our ice elementals into Tanks, so we can simply forget about our life orb. how do we do that? We turn another item into Honorific, and we put 10 Mystic Orbs of +1% Minion Resistances, and we add 5 more of the same to the Armor(make sure you are lvl 37 before puting the 5 of them). Before Leaving this plave for good, go talk to Greiz and Hire an Exemplar Mercenary from him. this guy will make our lives way easier in the future.
Now the run like hell part. Nothing can kill you with all that defense(dont forget to walk), tanks and resistances (at least not if you keep moving) so simply go to the claw viper (killing everything on your way or not, is your choice). We get the staff, we kill summoner, we find tomb and we kill Duriel.
Welcome to Kurast, traveler. Get yourself a nice comfortable bed, cause you will be spending some time in here. Go sell everything you have for that purpose, and get ready to spend a while cubing. what we are going to aim now is: -30 Enemy Poison Resistance and, if desired, Life After Each Kill on weapon.
before we let ouselves go to the adventure, we should be having a skillplan similar to this(Lvl 37):
Mana
Poison
Cold
Moonstrike
1
Lorenado
8
Shatter the Flesh
3
Familiar
5
Vengeful Power
1
Frigid Sphere
3
Arcane Torrent
1
Miasma
1 - 0
Snow Queen
6
Mana Sweep
1
Carpet Of Spiders
1 - 0
Abyss
1
Bladestorm
0
Hive
1 - 0
Summon Ice Elementals
4
---
Lets list what we got so far:
Around 40-50 -Enemy Poison Res.
Minion immunity
1125 Def from Rings/Amulet
500 or more Def. from Char Orb
+40 or more Total Char. Def. from Char Orb
75 Res from Char Orb/Honorific
+100% Faster Run/Walk from Honorific
This is enough for our little quest now. Walk to the Spider Forest Wp, and activate it. Do you see an entrance to a cave over there? well, get inside. Get ready for PowerLeveling/Uberleveling.
At low level we are going to do the "Safe Tactic": We will need a good use of Blink and Rapture, to get all your summons to shield you, and to run away later. If you know how to aim Abyss, you can Blink to a place where you can aim it confortably over the totems, spam while the Elementals tank, and then use rapture or blink(if timer has gone) to escape. I recommend this tactic untill you get to Level 50.
Here we can see: "Frigid Sphere" style, "Abyss" style (using it to aim easier) and we can se that if you make mistakes, you can tank and get out with our lovely blink. i also killed a Necromancer so you can se the "blink and leave" technique that i mention, and made it with the Exemplar mercenary so you can see how usefull his Retaliate skill is.
---
LEVEL 50 CHALLENGE:
Piece of cake. if you are playing hardcore, you might want to be a little carfull, be patient, avoid Phalanx, dont stand too close to the on-death novas. if you are playing softcore, Pure Yolo Swag Offensive the hell out of it. run kill, Blink to get your summons near again, repeat. Cube the sunstones, upgrade the charm, and go back to your life.
Level 50 Challenge For Newcomers:

Map:

What we need for this challenge is 3 Scrolls of Identify and 3 Scrolls of Town Portal. We enter Tran Athulua (Halls of the Dead level 3) and we go to each Priestess and kill them in a moderate distance (we need to get the same swirls we got from Volrath) and pick up the Elemental Sunstone they drop. Before the swirls run out, we need to cube the sunstone(the same element as the priestess killed) with a Scroll of Identify and a Scroll of Town Portal to upgrade them. after this, we cube each one separately with the Sunstone we get from killing the totem we find at the entrance.
---
That was hard, wasnt it? well, we will use this point to make another skill tree:
Mana
Poison
Cold
Moonstrike
1
Lorenado
10
Shatter the Flesh
4/5
Familiar
8
Vengeful Power
1
Frigid Sphere
4/5
Arcane Torrent
1
Miasma
1 - 0
Snow Queen
8
Mana Sweep
1
Carpet Of Spiders
1 - 0
Abyss
1
Bladestorm
0
Hive
1 - 0
Summon Ice Elementals
6
Now, back to Kurast 3000 B.A. with a new "not-so-safe" tactic (you can call it YoLo UB3r$w4G 0FF3n51V3 if you like, but saying all those numbers is kind of awkward). We will blink on the totem, and shoot a Lorenado at it if thats not enough your Elementals should be raping the totem and if you like it swift you can spam Frigid Sphere over it. Use rapture(or not, as you like) and go to the next totem(best if the Blink timer is over), repeat untill no more totems, then clean. Against the Necromancers, i reccomend using blink over them, then walking away so the elementals rape him while you are away from the Poison Flash range and shoot Lorenado and Frigid Spheres at him. The rest of the map is simply run, Lorenado, run, Lorenado, blink to reorganize summons, etc. etc. dont forget to pick up runes (Ith if not reached 15 on the character orb) Thul or Higher (Sol, Dol, Thul Amn, Shael) Emeralds for the Exp Pots, Bloodstones, Ambers, Tuquoises and Onyxs and every unique you find. "derp, what do we want them for?" obviously, to upgrade our staff to Tier 6 and our Armor to Tier 5 (why five? because tier 6 needs 150 dext and we dont want to put points in dext) leaving us with 126 Req Dext. [dont forget not to shard jewelry, use them to get early signets of learning(unless its a disengagement ring, which you can use to replace your rings and put the same Mystic Orbs)]
We must not forget about the Elixirs Of Greater Experience that we made with the Perfect Emeralds rerolled with our mule's characer orb. Those will make our trip to lvl 75 way faster.
zip-zap-boing we are lvl 75 and we dont win any more exp in this lame place. what do we do? we move on. where? we got two choices:
im over confident and i dont play HC ------------------> go to Fauztinville
Im not that sure i kick so much ass as Soponator----> rush to Act 5 and make a couple of runs in the Island Of The Sunless Sea. Then go to Fauztinville.
Another alternative is to go to Khalimgrad, but its not very safe in HC because of the untargetable elementals + totems.
Before you enter, you want to "update"(uplevel would be more correct) your gear. what we will be looking for, is to hit the Req lvl 60 in all Honorifics, filling up with a total of:

-60% Enemy Poison Resistance
+100% Faster Run/Walk
+20% Minion Resistances (+5% on the Armor)
We have 20% all res in the Sunstone(lvl 50 challenge) and we should already have 40/45 on the character orb + 10-15% on the armor that gives us 75, so we can reroll the Honorific that had + Res)
The rest of the space is up to you to distribute between +Psn spell Damage and + Total Character Defense.
On the Rings and Amulet we will add + Poison Spell Duration (15 MO on each ring, so we acumulate 135% + the Bonus of the Staff.
We want to stop at level 60, so we can make the step to terror even easier.
Skillplan at this point:
Mana
Poison
Cold
Moonstrike
1
Lorenado
14
Shatter the Flesh
11
Familiar
12
Vengeful Power
1
Frigid Sphere
11
Arcane Torrent
1
Miasma
1 - 0
Snow Queen
12
Mana Sweep
1
Carpet Of Spiders
1 - 0
Abyss
1
Bladestorm
0
Hive
1 - 0
Summon Ice Elementals
10
Ok, we just hit lvl 89. Thats Epic, isnt it? Yes it is. what we gonna do about it? Rush to Terror.
We are going to gain one level when we kill the ancients, so thats why we stop at 89. Which uberskill do we choose? Chronofield(one point will be enough), cause we dont care about melee, and we dont care about making epic high damage when our orb is full. We want to have control over our enemies. We will use Rapture to rush through terror, untill we enter Tamoe Highland. STOP AND THINK. Tamoe has Witches, Witches kill you. if you die in HC, your character is lost. so, what do we do? we turn the volume way up, we turn off the music and we walk slowly without many summons. As soon as you get to the outer cloister run, forest run! and go on rushing.
We will repeat the "omg no witches plz" procedure in the Rocky Waste from act 2 AFTER we put more Mystic orbs on our gear. what mystic orbs? Minion Resistances. Up to 75 so they gain immunity again. The rest of the space we have we can use it for +resistance if we still lack a bit (if we have 75 from the Character Orb + 20 from the Lvl 50 challenge charm +10(30 in total) from the Anya quest upgrade, and 10-15 from the armor, we are around 60-70, so we will need a couple of orbs more. the skillplan is basically the same, we move in 4/5 multiplyers when upping familiar, we smax snow queen, elementals and Lorenado, and the rest in Frigid Sphere/Shatter The Flesh for more life/damage for our Elementals. 
Max Resistance and inmune Minions = Binding of Baal. Get past Rocky waste in our cautious way, then rush all the way to Snake Valley, buy three Sacrificial Hearts and three Meditation Candles and cube them to make our Book of Summoning. Summon Tal Rasha(IN THE MIDDLE OF THE SNAKE VALLEY, DONT TRY TO CHEESE CAUSE YOU WILL DIE) and run away. once you are far, start going near, spamming abyss when you cant see them and Lorenado when they are close. Pay special attention to the number of your summons, and remember to use blink to bring them back near you. Kill one, run away, kill one, run away, etc untill only Tal Rasha is left. We go to town, refresh our summons, get your perfect gem, and go back to kill Tal Rasha. the procedure here is: blink near him, let all your summons lock him in melee, and spam abyss and lorenado to kill him. Be very carefull with the novas and spells. He dies, give us swirlies and we are free to keep uberleveling until 119! 
Here paths diverge. you can go in three different ways here:


You are playing hardcore and you like adrenaline way too much: you rush to act 3 and make k3k runs.

You are playing hardcore but you want to take it smooth and slow: you go back to Hatred and do some more runs in Fauztinville

You are playing Softcore: go to Hatred and do some Duncraig Runs untill you are level 115, then go to k3k terror.

good, now we are level 119, and we are one step away from finishing the Early game stage. we will say goodbye to our lovely Character orb but we will keep it in our stash(we will want it for cubing it with all kinds of gems for later making it easy farming Perfect gems for resistances or whatever we need)
if we throw away our character orb, we will loose our blink, which is crucial for our k3k farming, so we get a low tier staff with one socket and we make the this with a Nef rune:
Pax Mystica
Level 13
Staves
+1 to All Skills
All Resists +(11 to 15)%
(21 to 25)% Better Chance of Getting Magic Items
Level 1 Blink (20 Charges)

That way, we will always have blink on switch (dont forget to repair it, or you will find yourself in trouble).
congratulations! you are now level 120!
Last edited by Soponator on Mon May 19, 2014 1:00 pm; edited 30 times in total
At this point, we have  ah huge checkpoint. we will have a lot of free skills, given the fact that we are lvl 120 and i havent given you a new skillplan and a lot of MO space.
our new skillplan will be something like this
Mana
Poison
Cold
Moonstrike
1 
Lorenado
25
Shatter the Flesh
+- 17
Familiar
20
Vengeful Power
1
Frigid Sphere
+- 17
Arcane Torrent
1
Miasma
1 - 0
Snow Queen
23
Mana Sweep
1
Carpet Of Spiders
1 - 0
Abyss
1
Bladestorm
0
Hive
1 - 0
Summon Ice Elementals
(enough for 25 minions)
(This skillplan goes after you make the Witch Queen and Crowned Minigames)
gear:
as you can see we will now look for new ammy/rings, focusing mainly in + skills. other usefull things are: FCR, -enemy res, spell damage (we will lucky this part) +def. here you have the main armor plan, you can make your own modifications if you please, but thats the most important. what we will do is add flat def to them untill level 90 and then 15 poison skill duration.
Last edited by Soponator on Sat May 17, 2014 12:46 am; edited 3 times in total
I was just gonna read the begining and now i read it all

My personal suggestion/tactics. You can actually find Nef rune pretty fast, but runeword is level 13, i will take some time before you can use it. I do this. Eat those 3x500 signets at level 5 and go gamble a staff. 1500 gold is enough for two gambles. Look for one with energy bonus to spells. If you are still low on money do a LC0 couple times, spend collected gold on few MOs - mainly for damage on weapon and moving speed on boots. I do this with all my casters.
Goliath




Posts

: 2609
Transferred

---

Country

:

---



why familiar and not mana sweep? while both are ok, i think mana sweep makes your char a lot faster.
_____________________
http://www.median-xl.com
Malthael




Führer

---

Posts

: 10178


Country

:

---



@meta: its optional, you will probably already be doing trist runs at 14, so making all that effort for just one level of using it, is pointless

@marco: as we will have points only in energy, and our kill speed is very fast, we wont be using mana sweep very often. at lvl 5 we have enough mana to spam 20 or so sweeps costantly and at lvl 30 we can spam it for around 30-35 secs. and we want the +skills we are not getting from the gear.
Early game wonders for any caster sorceress with character orb is oil of jewelcraft and tp scrolls for mana after kill and regeneration. After the orb you can just use mana regen on jewelry. If you really wanna go homeless load up any double mystic orb staff(runeword or honorific) with spell damage, enemy resist, fcr and, most important, life after kill and you're basically immortal. Nice guide sop.

_____________________
We mortals are but shadows and dust, shadows and dust, Maximus!
Zorun Tzin




Epic Admin

---

Posts

: 13835
Transferred

---

Country

:

---



 thanks Greg! ill brainstorm the double MO staff RW, but, by what i've been playing, it all works 10 points. still got a lot of updating to do in the middle of what's already written.
Your guide got fairly confusing (I worked it out though

)
My 35 sorceress is really wrecking. Even though I may not have enough experience to say this (as I recently downloaded this mod and it's jaw dropping) this character build has me using my cube waaaaay more than usual (which is exciting!)
Edit: My level 90 sorc is wreckin.
Want to hear something funny?
When I started Kurast 3K BA at 30, I got to level 45 with five deaths (every level after that was a breeze)
I started Faunztinville at level 50 and haven't died once in there.
So, y'know, laugh...
Last edited by Hardbash on Sat Apr 19, 2014 2:24 pm; edited 1 time in total (Reason for editing : 55 levels later...)
Ent




Posts

: 6


Country

:

---



yeah, its a mainly crafted gear. tell me what or where you think its confusing so i fix it! more videos are coming, as soon as i can record them 
 and maybe ill make some kind of edition when i learn how to xD
here's my cookie sir , jumped in the forums to say thanks for the nice guide , trying it soon and see what it have to offer but i'm scared on hc , i'm rusty with median , need to remember all the things
Darkwarden




Posts

: 97


Country

:

---



Page 1 of 9 • 1, 2, 3, 4, 5, 6, 7, 8, 9

---
Permissions in this forum:
You
cannot
reply to topics in this forum