Page 1 of 2 • 1, 2

Hey ya'll, I've been playing single player for about 2 weeks and I hit level 120 at the end of terror on my paladin, at first I was using mind flay but then I switched to blood thorns. There were some bumps in the road but generally it wasn't too hard to get to destruction, I was even able to do a couple of the first charms (Butcher, Binding of Baal, Creature of Flame, and Infernal Machine), but I still died like 100 hundred times doing them. I have 166,189 defense and with terror strike I have 237.xxx defense. My resists are 219 FR/155CR/339 LR/ 479 PR. The problem I seem to have is that I get 2 shotted if I want to even get to a place like fautinville, I'm able to do it on terror but even those heroics on the way can kill me sometimes. I was following Stoya's guide and now I'm at the point where I'm deviating to better gear but its tough, is a paladin just a hard char to play untwinked?

Edit: I've run into several SU's, SSU's, and set items in like act 1 catacombs and around destruction should I just farm there till I can get some good SU's?
Farm Malthael's set. It's very good for unholy melee paladin.
The Smith




Mr. Nice Guy

---

Posts

: 3338


Country

:

---



Can you run destruction with just wearing the set?
@Appo

wrote:Can you run destruction with just wearing the set?
You should be able to.
Tell us more about your skill and stat allocation, and your gear. For example, my unholy melee pally who also uses Blood Thorns has a bit over 500k defense with terror strike (i maxed out Terror strike and Tainted blood) and even THIS isn't enough to get me to 5% chance of being hit in even some of the easier ubers like Khalimgrad, Tran Athulua, etc.
If I recall correctly, Destruction has a resistance penalty of -100, so your cold resistance would drop to 55, which is too low. You should Increase it until it's maxed.
Also, places like Fauzt are very difficult in Destruction and you should get more charms beyond the several you already have before venturing there.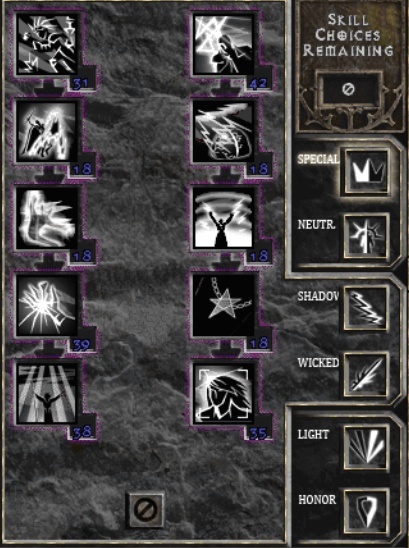 So the skills I maxxed out Bloodthorns, taintedblood, superbeast (10), blessed life, and hymn. I have 18/21 for stormlord just to hit my str req, 14 in TS, and 2 in rapture because i can't do 30 second duration only XD.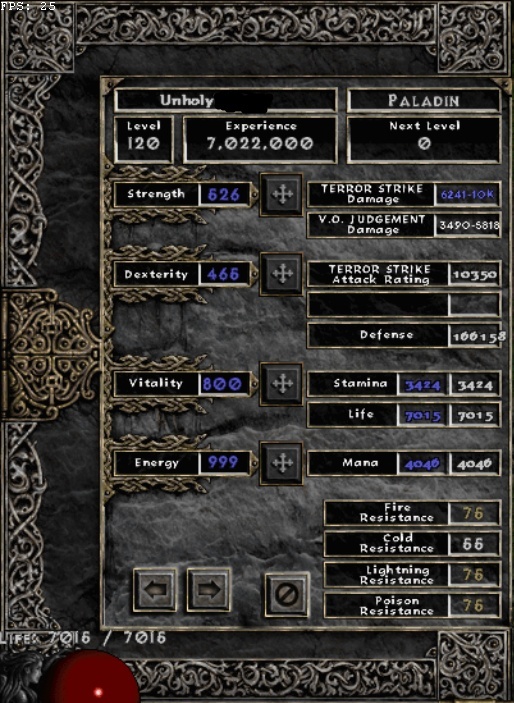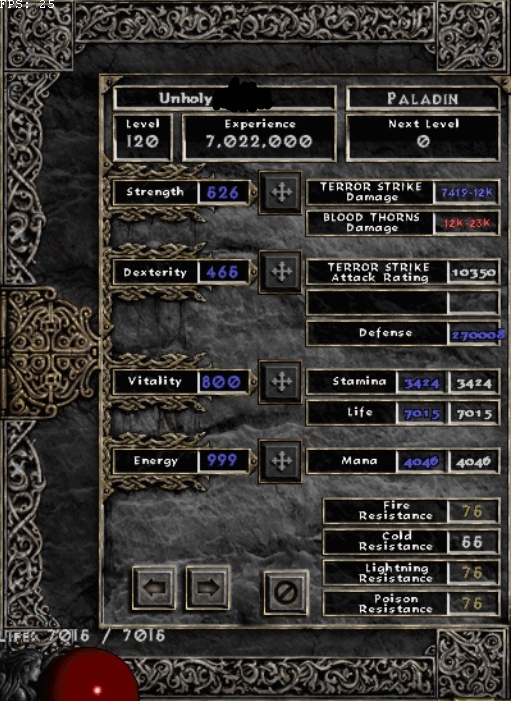 Stats I just put a base of 200 into vit to be safe and the rest into energy :O Bloodthorns is doing 91k max when i use terrorstrike, but I don't even think i need that much dmg if I can put it elsewhere
I would move some skills from Tainted blood to terror strike. Terror strike gives more defense overall than TB (plus you have WAY more than enough psn res) and terror gives more damage.

The benefits from additional points in superbeast diminish (and Stoya actually mentions this as well) so sMaxing it isn't necessary. I have a few, and that's more than enough. If I was you, i'd move at least 5 of the points from super beast to get scourges and sacred armor (1 pt each) and then 2 points to terror strike/TB.

Scourges are very useful for a few uberquests to help tank. They won't last long, but with the amount of +All skills you have, you'll have 15+ scourges, which each can eat 1 hit from an uber. For example, butcher would have been far easier with scourges to proc the pentagram. They are also useful for ubers like Aldric Jitan or the one in the Tower in the black marsh (in that puny cellar).

Sacred armor is a brilliant utility skill that i greatly undervalued (30 sec timer lol) until i tried it in some of the ubers. The last uber i mentioned is 1 prime example. Akarat is another. Sacred armor duration benefits from soft points (again, you have 15+ all skills), so you'd get a ~4 sec sacred armor which is actually very useful for saving your ass.

Vitality/Energy allocation is up to you (Stoya recommends 50/50) but on my pally, i put 0 into energy (only get it from stormlord, gear, and charms). I put most points into vitality (with like 150-200 into dexterity).

Also, try to post your gear. 1 difference between us (that i'm not sure how relevant it is in our case) is that i have triple your attack rating. I use ~6-7 crafted jewels with bonus to attack rating (among many useful stats). A lot of people say 30k attack rating is a good number for WDM builds, and granted we aren't WDM, i wonder if you're missing more melee attacks, and in turn not healing as much with Hymn.

For what it's worth, your blood thorns lists way more damage than me though xD
I have the same boots, gloves, and belt as stoya had right now because I havent gotten around to changing them.
Ammy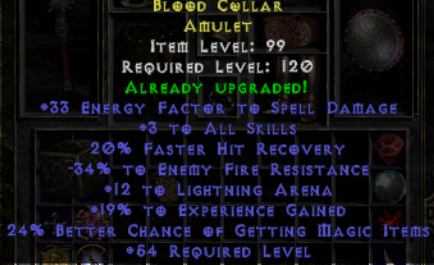 Armor - I had deviated away from the build cause after I crafted my shield I was trying to craft some armor but ran out of shrines then just found this rare that was better than anything I made/wore.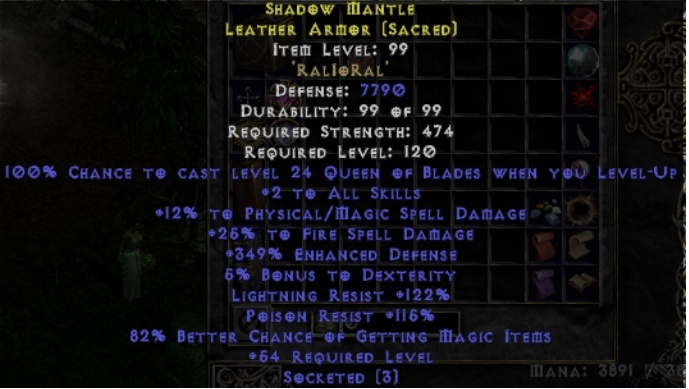 Shield- I thought this was like godly but I'm a noob lol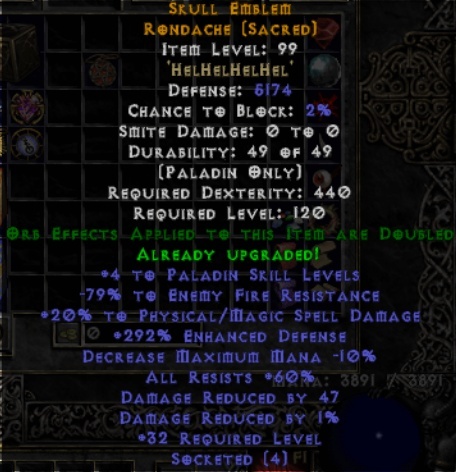 Ring1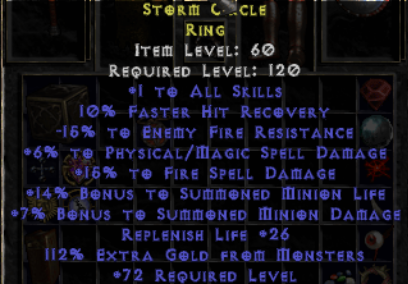 Ring2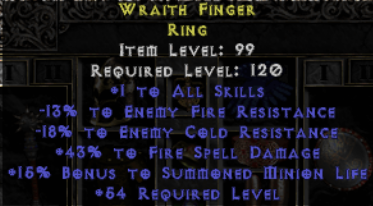 My weapon is actually laughable, it's so bad but I don't know what to change I just want the minefield rw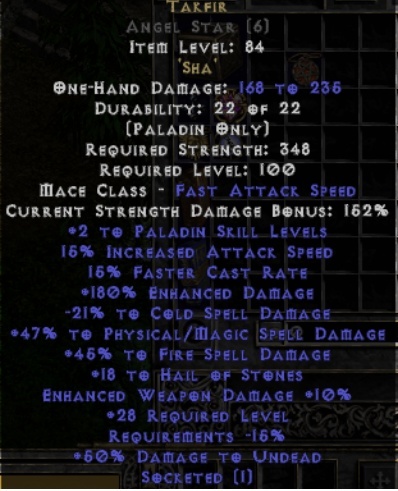 Solid gear for the most part. Helm and gloves are fine. Try to craft better belt and boots though (when you get the shrines, any shrines would work). 

For your body armor, i'd suggest a craft as well, though that rare is OK. When you get a good armor, socket with 6 jahs for maximum defense (after you get to near 350% ED, you can still go above that with ED runes). Try to find an armor with high base defensive stats as well. Leather armor is quite low.
Rings look good too, though i spent enough time re-rolling mine to also have the 5% CTC supernova on kill proc. Ammy is good.

For shield, if you can (very tough, i've spent over 50 shrines (500 rolls) and still haven't pulled it off) try to get one with stats like the ones you have but also with bear stance. Bear stance is very rare, but does show up and would help you with your defense and also boost your DR%. Also, try to find shields with slightly higher base defenses (if you can).

Weapon is OK but Demhe (mace runeword, Zod i think) or a crafted flail with 50% CTC balefire on attack are better (Stoya uses balefire craft).
I followed your advice and crafted this piece of armor, I thought it was reallllly good do you?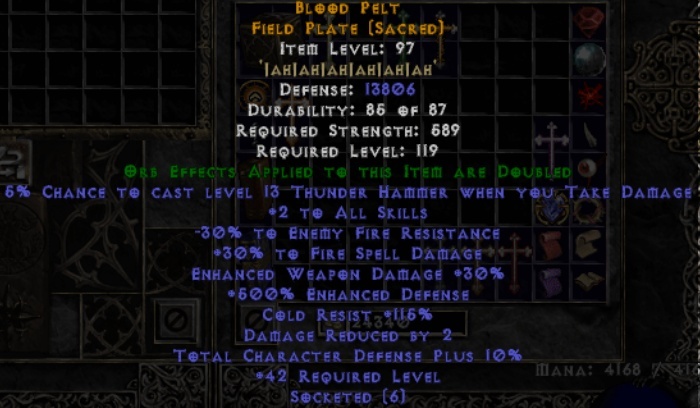 Also I made these gloves, the list is long because of jewels lol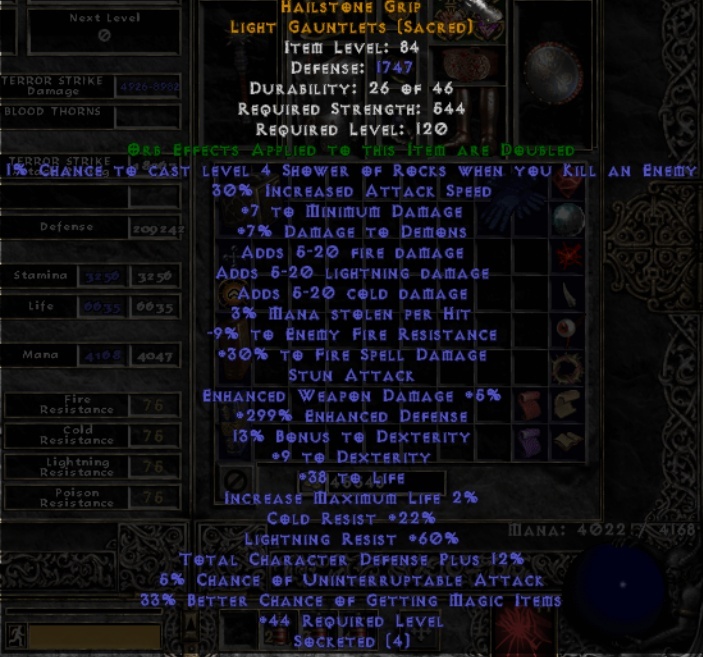 So my defense now is just a tad under 400k (something like 396k with terrorstrike) and the tran athulians in deso are still able to stun lock me enough it seems like to where i can't life leech
Page 1 of 2 • 1, 2

---
Permissions in this forum:
You
cannot
reply to topics in this forum