Page 1 of 8 • 1, 2, 3, 4, 5, 6, 7, 8

Hello guys, MXL is awesome btw  
First off me and my bro have been playing for quite some time now and  like any newbie we've come to a huge wall and guess what? It's about builds  
I'm using UH paly transitioning between melee and caster depending on the situation and my bro is using stance barb and he is somewhat a traditional player and is using sets (currently The Gathering of the Tribes) and I'm using Malthael's but I just switched to SUs and crafted we're both lvl 120 in destruction and finished some ubers and summoning but we can't solo some of them except K3KBA and I can solo Tran Athulua using a caster using Imperius set but he can't.
I need some suggestions on finishing my build because after I thought I finished building my gears but when I compare it to the set is seems that it's the same compared to the ones I built except for a few especially elem damages.
Here are my gear:
Weapon: Primary is Hammer of Ghrab Thaar War Hammer with hel runes and Taqqiya RW in secondary
Armor: Robe of Steel with hel runes
Helm: Khalim's Gloriole with hel runes
Gloves: Lamha Na Draoithe with thai runes
Boots: Megalith RW
A couple of them have Suicide notes Jewels btw forgot which ones
Belt and Shield: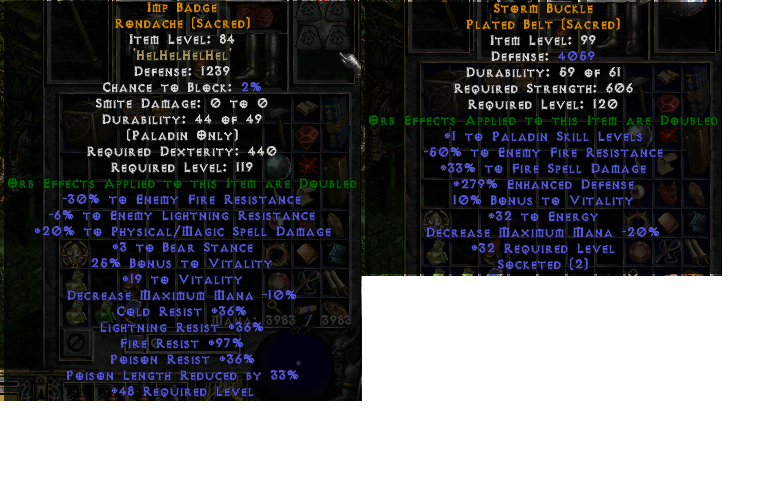 Amulet/Ring: Lamen of the Archbishop, Seal of the Nephalem King, and the last ring I'm switching between Assur's bane/Ras Algethi
And here are my charms and stats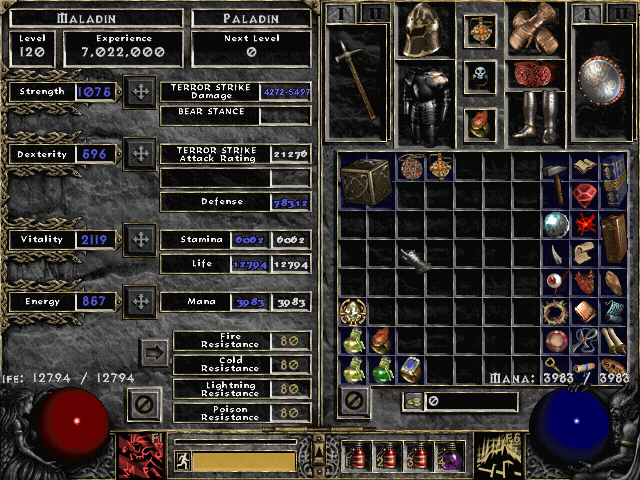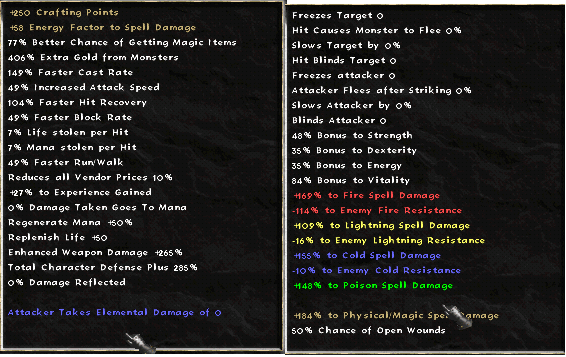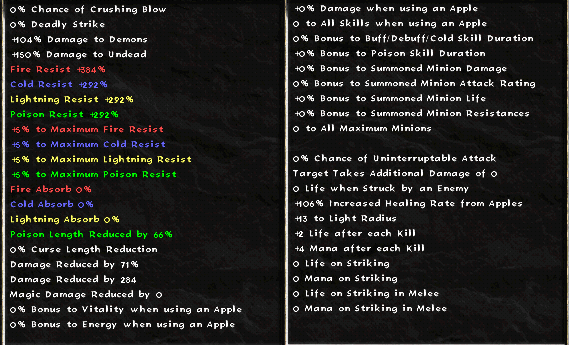 btw I put all stats in vit only. Def is boosted to 400k and BT is around 16-24k when TS connects.
And here are my skill without any bonuses from my gear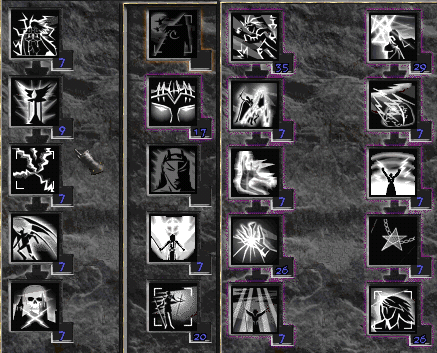 Only Blessed Life and Terror Strike are SMaxed others still have 4-6 points remaining to max.
I am able to do some ubers but it takes a really long time to finish even in P1 and some just really rapes me. Any suggestions to this build would be really helpful? btw I still have more SUs SSUs available like stormflyer kiteshield, Shadowhymn Boneshield etc. So any SU suggestions are welcome I may already have those except maybe the last tiered SUs. Also I'm going to start building a caster gear after this and any suggestion to that would be much appreciated.
And what about my bros' barb any suggestions? He mainly uses bear stance and not much of a skill switcher (I'd say about average not too fast to not too slow which I am also but I do alot of skill switching) so when we play together I switch to a caster pally that's why I'm using 2 builds. He tried some suggestions in the guide  (I think he used snake stance build using procs/SU Labrys) but eventually switched back to sets because it was just the same especially the big bonuses sets give. And some if I'm not mistaken are a bit old.
And lastly I browsed through some build suggestions before and I may really sound like a big NOOB but I just got to ask HOW IN BAAL'S SHITHOLE can you increase the sd% to 700 and -er% to 200 while having all those bonuses also?! I Mo'd some of my gear and tried but I never made it to atleast 300%, Please a quick explanation/link w/e to that would be really really great!
Thanks in advance and can't wait to play Sigma  
Skull Ape




Posts

: 25


Country

:

---



i got the feeling that you overrate SUs at this point, your crafts are good however not perfect.
As for the belt you can have a disintegrate proc.
Im also a very big fan of Ix Rw helm for the Eagle stance, also plz get rid of your actual weapon

, exchange either with a craft or maybe this rw which grants alot more safety
Ix in hammer
33% Chance to cast level 21 Glacial Nova when you Kill an Enemy
5% Chance to cast level 23 Abyss on Attack
+(251 to 300)% Enhanced damage
Adds 75-150 Damage
30% Increased Attack Speed
15% Faster Cast Rate
(21 to 25)% Bonus to Buff/Debuff/Cold Skill Duration
Adds 1500-2000 cold damage
Hey thanks for the reply...
Heh I just used that weapon because it's the only alternative I had if I've to use a shield because of the proc and +skill lvl.
IF I'm going to use that RW weapon is it better to switch BT to Lemures to maximize the benefit of the cold dam and proc of the weap? if that's the case then I'm gonna redo all crafting w/c is not a prob btw
And as for belt I tried to get disintigrate WITH +1 pala but it never came so I got bored and settled with that lol but I'm gonna try again.
Skull Ape




Posts

: 25


Country

:

---



no you need to use Blood thorns as usual

the glacial nova proc is like the best proc a melee char can have because it offers so much crowd control
Imho, tu tepoztopilli is way better then your current weapon(K3k/TA/even duncraig become a lot easier with this horde of reanimates). With fascinating crafted armor enchanted with shimmering shrine for %spell damage/-enemy resists, crafted belt with disintegrate proc/pul rw in gloves/ath rw in boots and crafted helm with paladin skills/some spell damage and enemy resists i finished most of regular ubers without any serious problem. Crafted weapon with balefire proc clean everything non magic immune(help a lot in fauzt/duncraig), Klaatu Barada Nikto amulet add some lightning damage and oskill hive which work pretty awesome for unholy paladin. For more spell damage craft jewels with Zod rune and use switch weapon with high +skills/elixir of power(15 to all skills for 60sec) for prebuffs like superbeast.
Curst Guard




Posts

: 761


Country

:

---



For me uh "meele" is more like caster paladin but in meele range because all of his skill are kinda spells and they use +spell dmg/-enemy res/+ x% dmg so this is what would use on him:
This's "high-endgame" gear so if u dont have those items u can try to craft/find other with similar options. Ofc if u want to play fully as a caster i would go for almost all crafted items.
I chose those items because i saw u focus more on fire than fire/cold dmg.

Armor: Coat of Darkness/Full Plate Mail (all version)/Natasha's Legacy
Helm: Gehenna/Eyes of Septumos/Dark Star/Warlock's Brilliance/Maiden Mother Crown/Rathma's Phantom/
Shield: Crafted Bear stance (-enemy res +res def/life ect)
Belt:  Ashaera's Armor/Dementia/Auhe rw/craft with desingerate on attack/
Gloves: Lorekeeper/Lamha Na Draoithe/Craft with stormblast on attack/
Boots: Wizard's Path/Qor rw/
Weapon: Craft with balefire on attack(use sacred war axe because of highest base min-max dmg)/Morning Fury/
Amu/rings: amu with 4sk mythal on attack, -enemy res, life, light arena | rings +1sk - enemy res nova on kill
Burning Dead




Not so well known...

---

Posts

: 1044


Country

:

---



yep youre right for a moment i totally forgot the balefire proc !
What do u mean "for a moment" ?
Burning Dead




Not so well known...

---

Posts

: 1044


Country

:

---



Flails do just a bit less dmg than war axes, both have the same range (2), but flails are about 50 strength less to equip (assuming that's a factor). So flails could be a great alternative to crafted weapons for balefire proc
Hardliner




Well-Sourced Debater

---

Posts

: 1630
Transferred

---

Country

:

---



@hellgrind

wrote:What do u mean "for a moment" ?
for the moment when i wrote my post

Also str is no criteria ; UH pala has got that awesome passive
Page 1 of 8 • 1, 2, 3, 4, 5, 6, 7, 8

---
Permissions in this forum:
You
cannot
reply to topics in this forum