Page 1 of 2 • 1, 2

Since I haven't seen much discussion on it and the tree is so nontraditional I thought I'd open a thread about the new thunderzon tree to serve as an idea board/brainstorming group session. I'll start with some observations.

With the exception of thundercrack, there is an exceptional damage range for all of your skills which lowers your effective dps quite greatly when everything averages out. Because of this, I don't know that you can rely soley on the skills themselves to kill effectively. Procs (on striking especially) seem to be a necessity if you go the weapon damage route. Danmaku is obviously ideal for this sort of build unfortunately.

In terms of weapon availability, you seem to have 4 relevant options:

1) the new set scepter and accompanying pieces.
2) generic weapon runewords, ath sceptre runeword, and the 2 mace runewords (hammer runewords don't work so unfortunately neurogenesis is a no go)
3) Thunderbane
4) a craft

I have no idea what the set looks like as of yet so I cannot comment on that. Thunderbane has rather low damage and would need to be modded purely for damage to compensate as it is lacking otherwise. It seems to be one of those uniques that suffers from power creep. The ath sceptre runeword is definitely an intriguing option given the lightning proc so it could work quite well with thundercrack and a more hybrid melee/spelldamage oriented version of the build. I feel like the best option would be a craft with high damage and an atmg on kill proc (to trigger more striking procs) which is difficult but seems reasonable. A craft can pretty easily approach 1000 damage which is miles better than you'll get with just about anything else.

Anyone have any relevant experience/success with this build? Does weapon damage work without danmaku? What works for you guys? What skill layouts seem most effective so far? Any interesting thoughts/findings? Share it here!
too many options that I can think of simply because of the magical attacking which hits so many dudes. DO you consider that a zeraezon though?

Apologies if already answered. post was long.
Talic




Mr. Generosity/Former Forumer & Freak :)

---

Posts

: 3859
Transferred

---

Country

:

---



Hammer runewords do in fact work (per the changelog); Neurogenesis works.
Fairy Witch




Belt (Sacred)

---

Posts

: 325
40

---

Country

:

---



http://www.servimg.com/view/19062178/3

from the screenshot thread

_____________________
"Zu jeder Zeit, an jedem Ort, bleibt das Tun der Menschen das gleiche."
Creature of Flame




Bloody High Five

---

Posts

: 5572
none

---

Country

:

---



Gloom




Posts

: 13


Country

:

---



... if only there wasn't a scepter required, the 2h zon could be revived.
Razor Fur Titan




Posts

: 246
Transferred

---

Country

:

---



Neurogenesis most certainly does not work.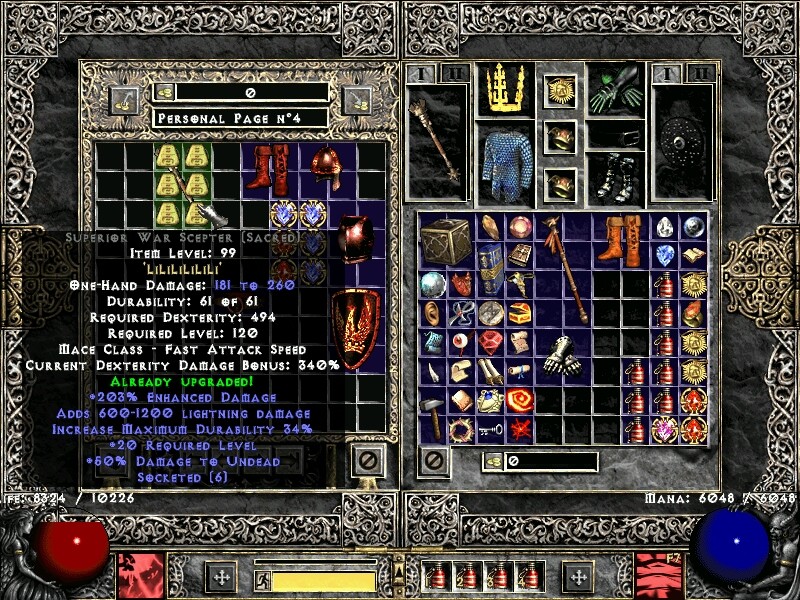 Will post more as I find more.
Changelog wrote:Scepters: are now properly considered maces (for runeword purposes).
I thought that was what this note meant? Or do "mace" runewords work, but not "hammer" runewords, like Calypso? Sorry for the misinformation.
Fairy Witch




Belt (Sacred)

---

Posts

: 325
40

---

Country

:

---



It's not misinformation if I already knew you were wrong.
New stuff I learned.
If you want to go weapon damage you certainly can, but ewd is a must. Akarats trek and a high ewd bloodlust (proc or otherwise) make a world of difference in making thundercrack more usable. Magnetic field is ok but is only truly effective with moving enemies (melee mobs especially) as the field never gets particularly dense. Hammer of zerae is incredibly strong and kill procs seem to work nicely with the build.
From what I can tell, this is a bad k3k build.
I never liked Magnetic Field. From the description I expected a large AoE that periodically hits everything in it for 1% WDM, instead there's all these lame holes in it. Since it's based on
this
Amazon Warrior




I Am Someone

---

Posts

: 1738


Country

:

---



Page 1 of 2 • 1, 2

---
Permissions in this forum:
You
cannot
reply to topics in this forum