Page 2 of 5 •
1, 2, 3, 4, 5

heh. my friend is a senior vp @ sprint, i should ask him for some of those japanese softbank tricks and what I can/can't do.

Yeah I'll check out the app and see if its up to the latest xpansion. I just bought unlimited data forever for $275 which is a great deal. Hmm
Best not to roll the dice. I am always getting in trouble with that shit.

Thanks ill look into mtg more and hit this thread up.
Spike Beast




Posts

: 400
Transferred

---

Country

:

---



I play an unhealthy amount of mtg.
Blood Stone




Posts

: 209


Country

:

---



What format borg? I'm guessing you started early bc I remember you from mod forums @ laz's hugelazer site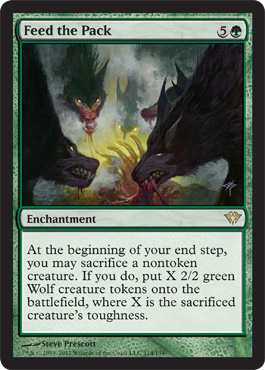 inspiration for werewolf passive, in case noone noticed
_____________________
http://www.median-xl.com
Malthael




Führer

---

Posts

: 10178


Country

:

---



I have that card in a defender deck I made that isn't very good.  

Good fun with tree of redemption and the like.
I love tribal decks and decks based around mediocre but interesting cards or concepts. First started playing around the new phyrexia stuff a couple years ago and my first mildly coherent deck was a 8 dollar goblin tribal deck that always seemed to draw goblin grenade at when I needed it.
I've also got a scrambleverse deck that works oddly well.
I play standard I guess but casually so I don't just throw out old decks when they aren't standard anymore. More fun putting the deck together under reasonable constraints rather than playing vintage or legacy and slapping together a bunch of broken cards that were never meant to be used together. Only downside is ridiculously expensive mythic rares (they usually aren't very much fun when they cost that much anyways).
It's been a while since I've made a deck cuz I've been broke and jobless but I've been looking and there's some interesting minotaurs right now...
Something about slapping together 60 cards that synergize with each other just gets me going.

Bear Shaman




More brilliant than Chuck Noris!

---

Posts

: 1154


Country

:

---



Yeah man. Dragon decks work surprisingly well as a tribe (especially with scion as your legend) for EDH / Commander format

. Basically 5 color good stuff otherwise
Btw thats a kicks card for EDH as well. High mana big game-changers are both fun and great to use in EDH play.
You ever try 90 card singleton with a legendary creature u can summon anytime (albeit each time at 2 more mana upon death).
Also I suspected mtg but wasn't sure if u were going for it. There are a lotta nice cards similar to feed the pack and didn't know if u played during a specific block
I wish I could contribute to this topic, but I haven't played paper for a long time.  I can just give my little story and will probably be done with this topic afterwards.

My first experience was around 4th Edition/Ice Age, but I didn't get much experience, as I was young and lacked money.  Then I started again around Tempest/Stronghold, but money was still a limiting factor.  I really liked Slivers.  Then I started again around Prophecy, so most of my cards are Invasion, Odyssey, and 6th/7th Edition.  Onslaught was the last time I bought cards.  I only played casually with friends, so it never really mattered if a card was too old for current play.  There was a club in high school that played after school on Fridays.

The last deck I made was a Crypt Rat deck, which I don't think I even played with.  It isn't even optimized, due to my card selection.  It is four colors (White, Black, Red, Green), but if I could optimize it, I would remove the red and swap out a lot of the green, white, and artifact cards to better support the Crypt Rats.  Basically, this deck would never attack.  Crypt Rats would just do all the damage with their pestilence-like ability, while being enchanted with life gain such as Armadillo Cloak.  My own creatures would be protected by global enchantments (Castle, Spidersilk Armor, Glorious Anthem) that increase toughness or a white creature (Obsidian Acolyte) that can give creatures protection from black.  Works great with Saber Ants.

I've never really cared much about building decks to win, aside from red burn decks.  I usually preferred to make combos.

I started playing Duels of the Planeswalkers on my PS3 a couple of years ago.  ~10 years out of the loop was a little intimidating, since there were so many new concepts/abilities/keywords.  I'm disappointed that mana burn is gone.
Bone Sorcerer




Posts

: 30


Country

:

---



Crypt rats R fun!

You still have ur collection?
Damn, I haven't played the game since the '96 or there-abouts. Shit sure has changed.

The only card I have left is my "Presence of the Master".
Prince Albrecht




Grumpy Uncle Grimjerk knows best!

---

Posts

: 3009


Country

:

---



Page 2 of 5 •
1, 2, 3, 4, 5

---
Permissions in this forum:
You
cannot
reply to topics in this forum