Page 5 of 46 •
1, 2, 3, 4, 5, 6 ... 25 ... 46

@kijiero

wrote:Not sure if its a bug, but in duriel's chambre you cant use necro's spell bend the shadows. The cast animation happens but you don't teleport to your summoned unit.
Teleport spells don't work in Uldyssian uber. Duriel's Quest is considered a part of this uber, because they both use the same 'dungeon'.
Infernal Machine




Master of Stealth!

---

Posts

: 5649
Transferred

---

Country

:

---



ah ok, thanks for the info
Gloom




Posts

: 13


Country

:

---



backstab was never 1s. It lasts 3 frames which is a bit more than 0.1 second.
since XVc, the duration of backstab starts at 10 frames (0.4 seconds). But it decreases with clvl. The explanation for this is rather obvious, a longer duration suits for a longer fpa in the early game.


@Sexen: the skill is not bad. Have you actually tried it or are you just theorycrafting? Nagis hit 7fpa, with 3 frames duration its almost like an extra layer of defense, but assa style (you need to find ways not to get interrupted when you're vulnerable). On top of that you get free cb and ar to your nagi's AoE and whatever happens in that time too.

do you realize that with higher duration you would basically reach godmode with superbeast morph, right?
_____________________
http://www.median-xl.com
Malthael




Führer

---

Posts

: 10178


Country

:

---



Found a bug with this runeword. It should be rlvl 78 (according to the docs, and same level as the Kur rune in it) but it says rlvl 96. (The jewel's only rlvl 12)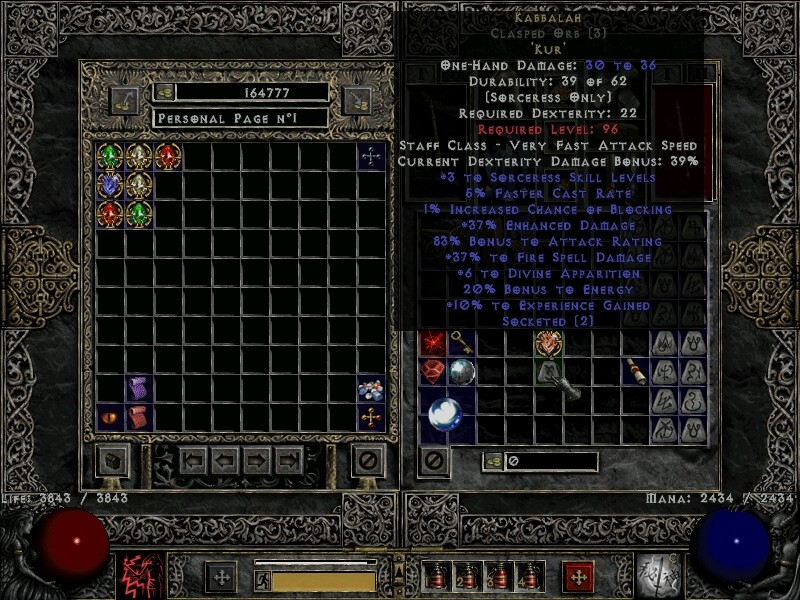 Amazon Warrior




I Am Someone

---

Posts

: 1738


Country

:

---



Got this on Hatred. Intended?
Spoiler:
Spike Beast




Posts

: 413


Country

:

---



you probably got it from an armor stand (can they even drop rares?)
_____________________
http://www.median-xl.com
Malthael




Führer

---

Posts

: 10178


Country

:

---



I guess you could call it theory crafting stage. I am trying to find a skill build sweet spot on a new nagi sin. I basically go to act 5 random waypoint and test skills out to figure out how many points I actually want to spend them in. To this end its less density than an uber I agree but I went for 100% uninterruptible and I think 5 fpa fhr. I do realize that with even 1 second duration it would be godmode (that's what I was trying to achieve so I could QQ it was op). I just don't (didn't) understand its usefulness. I was going to roll low timer hg and use backstab during skill cooldown but I started leaning toward just using crucify so I decided to make those posts.
Nagi sin does fine in duncraig using normal attack but Aerial knows this
Anyways I'll give it more of a chance and see what it does in vizjun or something. I overlooked the fact that the cb would be applied to the aoe

Its so nice now that we aren't talking a bunch of shit or taunting each other. Oh how the times have changed

Howling Spirit




Posts

: 1956


Country

:

---



death to meph spirit things = fpbe
Bane Hunter




Evil Protato

---

Posts

: 398
Transferred

---

Country

:

---



Skills given by RW Aegipan (Feral Strike, Ravage, Thorn Field) currently only work with daggers, maces, and axes. Seeing that they were meant for supplementing shapeshifting combat, could you please make them work with swords, so that werewolves can also use them?
Kill Rat




Posts

: 1


Country

:

---



I was playing single player during server downtime on my pounce-zon.
My barb merc has a crappy craft weapon with dragon oath on melee attack:
crappy weapon:
While pouncing around my zon eventually turned to dragon form:
dragon zon:
My skills weren't locked out (as per changelog), but it is intentional that i can still attain dragon form?
Hardliner




Well-Sourced Debater

---

Posts

: 1630
Transferred

---

Country

:

---



Page 5 of 46 •
1, 2, 3, 4, 5, 6 ... 25 ... 46

---
Permissions in this forum:
You
cannot
reply to topics in this forum