Page 1 of 26 • 1, 2, 3 ... 13 ... 26

Anything that came from anime can go here. Since probably this kinda niche hobby in this forum, we can put various anime related things here as well (music, games, cosplay, toys, movie etc etc).
I have been marathon-ing various anime, finishing couple of my anime stocks.
A lot of good anime in 2012, so i need to clear those before i download next batch when i reaching my hometown.
Upotte!!
If you think country as character (Hetalia: Axis Power) is crazy enough, wait till you watch this anime. Other than xebec studio (which studio i know for various H anime) who made the anime, i have zero knowledge on this. Not even heard / read anyone talked about it. Basically story just simple girl go to school and have fun. The thing is, Girl = gun. Yep, instead of country we got freaking girls-gun. So imagine thing like if guns to hot when fire too much, the girl also get hot. Hard to explain, because the anime doesnt explain them much either.
But some history on guns are quite fun. For school students, kindergarten = sub-machine gun, middle-school students = assault rifle and high-school students it either to old guns or bigger rifle (like M16's older sister = M4). Well, it all fun short series of 10 episodes (weird, usually it either 12 or 13 episode per seasons)
*Trivia : Kinda funny when people been complaining about violence video games (sandy hook tragedy), i watching girls using assault rifle, shooting at each other (much more extreme than gunslinger girls, but light-cute anime style).
Example pic :
Spoiler:
Similar Anime: Strike Witches 1 & 2 (those have really close feeling, others probably a bit more serious side)
I will add couple more review when i watched something interesting.
Finally! Now I can get out all of my thoughts about my experience with anime, and how certain animes become disappointing in the end, or have real good potential, but lack certain concepts..... Brace yourself.
So first off, born in Canada, there wasn't much variety in animes to watch.
Basically, an anime would come out on tv, would then air for like a year or more, and then another one would appear. Earliest one would be DBZ. I remember watching at least 300 episodes of that. Then came Inu Yasha, Naruto and then finally Bleach. They would occasionally air shorter animes like Eureka 7, Death Note, Full Metal Alchemist etc. I remember loving them all.
Thing is, once I got older, animes like Bleach and Naruto would NEVER end. I didn't really pay any attention to Naruto, but I remember Bleach dragging on with filler and repetition. That's why I can't watch animes that are longer than 100 episodes. They drag on and put too much filler.
Seriously, every single short anime I watched has been great. Examples are, Death Note, Eureka 7 (my personal fav), Fma, Samurai Champloo, Cowboy Bebop, Elfen Lied, Soul Eater, etc. etc. These are all animes that don't go past 51 episodes. They all have a beginning, middle and
end
.
I understand that a lot of people like filler, but personally I think it takes away from the story. It's also not like short animes don't have any filler either. Animes with 50 episodes will usually have some filler, but it's
short
, and doesn't create holes in the main plot.
A lot of people like animes that have over 9000 episodes because they don't want their anime to end. Like literally. They love the anime sooo much that even though they're watching repetitive bs that has nothing to do with the plot or anything and constantly creates holes in the story, they continue to watch in amazement. I don't get it, but meh, I guess it's just personal taste, and I'm not gonna complain about other people's taste in anime cartoons...
Anyway, sorry for huge story on simple topic. Maybe I'll post more stuff about actual animes. I might even review a few I mentioned here.
Astral Guardian




Posts

: 1297
Transferred

---

Country

:

---



all my knowledge of anime:
STONED
and this guy is win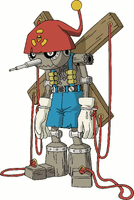 edit: oh I forget
_____________________
http://www.median-xl.com
Malthael




Führer

---

Posts

: 10178


Country

:

---



Been long time since i last watched pokemon. Used to follow all seasons on tv and movie.
Stopped at 3rd movie (one with legendary dogs, Entei, Suicune and Raikon?)
Pokemon are among only anime i NEED to watch in english or name mis-match will be too much.
Digimon however, I sticked to dubbed or japanese version.
If anyone of you watched Cardcaptor Sakura (dun be shy, it quite good anime), a lot of theme in the series ARE NOT SUITABLE for kids. Seriously i wonder why they let them dubbed here.
Here sample of relationships
1. Sakura and Tomoyo (girlXgirl)
2. Syaoran and Yukito (boyXman)
3. Student and teacher
And probably couple more that i forgot to list.
Probably it maybe so bad for certain people, but i dun wont recommended this for all age @_@
There is also old anime I watched that have ALL TYPE of relationship.
1. Standard boy & girl
2. Incest
3. Gay
4. Lesbian
5. S&M
6. Dillusional
And it is comedy anime @_@.
It called Potemayo.
Or you can try read the manga at:
http://citymanga.com/potemayo/
Oh, it kinda short with 5 volume only, might read all the manga.
I just finished marathon for
Last Exile - Fam, the Silver Wing.
Usually i will share my thought only i have something to show or im pretty excited about it.
Spoiler:

Beautiful isnt it?
But this time.... no.
Last exile that made Studio Gonzo about 10 years is among my main reason why i love watch anime.
Combination of good character design, airship and 3D!
It was big back then (gonzo is one of pioneer studio for 3D CGI in anime)
Yet, beautiful graphic alone doesnt make good anime.
Here couple of points:
1. If you like war (airship/ spaceship) scene with various cannon shooting and dodging, you gonna like this. Especially all war are pretty large scale with couple of small ships doing fancy things (smoke screen, send signal, blow-up engine of huge ship)
2. Range Murata (character, concept design) have create another huge amount of great design for various things from character, clothing and ships . He seem to work with Studio Gonzo for multiple series like Blue Submarine 6, Last Exile,and Shangri-La. He one of people that inspired me in art with Last Exile
3. War and Peace. Can we attain true peace without war? Is the killing and destroying other nation is the only way to achieve peace? Politic, truce and war is major factor in this series. Usually bad guys doesnt exactly evil, but their have their own ideal that different from main protagonist. My problem is, if it only clear cut war between 2 factions, it much easier to digest. But when you throwing in treachery, switching side...... it pretty too much like Gundam to me. I mean, you dont expect people to switch sides in battle right?
4. OP enemy, FUKING OP enemy. Gosh i hate when they tossed this around ESPECIALLY if main character doesnt even have chance to scratch them. Talking here more will spoil the story, but i do hate the invincible of the character alone. If it was by other factor like size of army, powerful artifact or maybe main character able to sit on same level with enemy, then it is fine with me.
My mind is still confused as hell because couple of plot holes (slightly different from Mawarun Penguindrum where that series really have a lot of metaphor). I tried to find various info on website but still fail. It was getting bored about 2/3 of series and i just watch through while surfing website. Studio Gonzo FU again in story-writing just like in Shangri-La.
*If you want my recommendation for anime from studio Gonzo, I HIGHLY RECOMMEND Vandread 1st/2nd Season. It was a bit moe (too many cute girls), but the story are pretty DAMN GOOD, it was kinda my first love for anime.
This one special, it is not anime series but a movie.
Title : Disappearance of Suzumiya Haruhi.

This one doesnt need introduction as she quite famous among anime-otaku. So far series have 2 seasons, I recommended to watch first season as it is the best. As for season 2, the problem was probably with the storyline (imagine you watch same story in couple episode, "Endless Eight") and probably because manga/GN's story havent further much. Enough about series, Im here to talk about the movie.

I will try to make it spoiler-free:
1. Imagine a world when suddenly main character / person you liked disappeared? How the story will go, how will you continue your life?
2. To make it worst, you alone can remembered it. Other's people life changed, and think you are crazy when you asked about the character.
3. The anime series have alien, time-traveller and esper (psychic?), so expect something along the line of parallel world and time-travelling (Looper movie also gave same feeling).

The movie is quite long to be honest (2 1/2 hour), longer than most other anime's movie, i was afraid I might have attention problem watching this. But im surprised i managed to watch whole movie without taking break because the pacing is quite good.

Recommended watch for people that watched the series, it might be weird for new people to watch movie first without watching first season at least though.
Watch gintama! Best long anime I've ever watched... actually best anime period haha! It's basically has very little plot but it sort of has "arcs" so to speak, so short series of episodes about Gintoki and his yorozuya buddies getting into trouble. It's full of humour and just about makes fun of everything japanese. It can take a little while to get into, and the animation quality is poor at the beginning since I'm guessing sunrise didn't throw too much money at it (seeing as how it deviates from the ever-so-popular, cute anime girls doing cute things). It does however get better later as it picked up popularity (highest rated anime at myanimelist).

As a side note, the main character (gintoki) is the same voice actor from Suzumiya's Kyon.

P.S. not really japanese anime, but if you're a fan of metal and you haven't watched metalocalypse, do it now.
Mindless




Posts

: 823


Country

:

---



Uh wow, i didnt expect another anime that get me hooked me up from start till end (pun intended).
Title : Another
Genre : Mystery / Horror
I cant say much without revealing the plot, but basically there mysterious thing happen after the MC (main character) come back to his old town. As new transfer student, he suddenly in something that been happening for quite some time.
Spoiler:

There are some chain / serial mysterious death that happen to a third class C every year. Each month, 1 student found dead and some times, people related to the student also found dead.
It just short series of 12 episodes which keep me hooked in each ending. I never fan of mystery / horror, but certain scene are still in my mind right now. Scale wise, seem much smaller compared recent anime i watched (shiki and higurashi) but at least it wrapped up in such nice way.
*This also main reason that i forgot to update my guide...... postponed tomorrow -_-
Another was actually quite good - kinda like a "final destinaton" type anime but it was well written and keeps you guessing until the end.

Not sure if you've seen Mirai Nikki squall, but definitely check that one out as well if you enjoyed Another.
Mindless




Posts

: 823


Country

:

---



Final destination, yes that kinda describe it well.
Like i said, i usually i hate horror movie... i guess i like suspense?

As for Mirai Nikki, I read the manga long before the anime, so definitely one the best series for (feel kinda death note also).

Except ending went to dragonball Z fight like... I didnt recall at all the scene in manga (probably existed, but i couldnt remember). So ending kinda like meh.
Like last panel in manga was so good.... but in anime it only happen outside screen + voice only.

It was great that the anime get couple of material from side-story (forgot the name, side story focus more on the terrorist girl).
And side-manga which the detective play the main role is AWESOME!
http://mangafox.me/search/author/ESUNO+Sakae/
Check the mirai nikki paradox and mosaic.
Page 1 of 26 • 1, 2, 3 ... 13 ... 26

---
Permissions in this forum:
You
cannot
reply to topics in this forum