Page 3 of 16 •
1, 2, 3, 4 ... 9 ... 16

Yeah more or less: it depends on the pet your toon counts on. For example, the wolves given my nature mastery or the Wisp by Storm, will buff your toon; Liche king cast also an awesome debuff, etc... You will see how them work little by little.

By the way, Metalistas, Which second mastery are you planning to choose for your toon?.
Son of Lucion




Forum Human Rights Activist/TQ Lord

---

Posts

: 227


Country

:

---



@Borgin

wrote:

@GregMXL

wrote:I do want to try Grim Dawn but I don't wanna pay $25 for it unless I know it will be updated for sure.

Just wanted to let you know- Grim Dawn is pretty good, I've gone through all the content a few times and it does get updated pretty regularly, albeit slowly (one "big" patch every other month or so). It's been on sale quite a few times already, I think it was 50% off during the Steam Holiday Sale, so you can get it for pretty cheap.

It is exactly the same as Titan Quest, though, just with different skills, basically- so you are probably better off with TQ:IT and maybe a few mods, at least until Grim Dawn is out of beta and is a "real game".
Yes I kinda figured it is good considering it's like an updated version of TQ. I can wait for it since I can spend my time playing TQ-IT and Median which I can never seem to take long breaks from. I can also wait for the sale as well. There's cool stuff on steam and I like how they keep you up to date with genre tags and suggestions for games you might like. Like action rpg, loot, hack and slash and the popularity that particular game.

_____________________
We mortals are but shadows and dust, shadows and dust, Maximus!
I have no clue about masteries yet
I am only lvl 9

and found my first green item.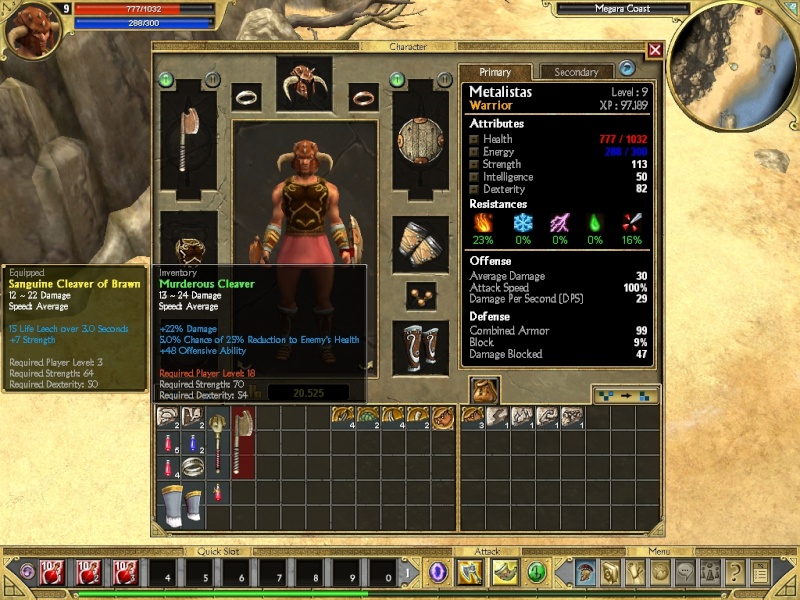 Is there a way to buy 5/10/100 potions ?
What do i lose when dying ?
At the moment i am reading about yellow xp bar, trying to figure out the best way to get more xp.
Unfortunately in vanilla potions don't stack in big numbers
Just spam right click them to buy no other tricks present in game.
You lose xp when you die, but if you click on your gravestone you recover a fraction of the loss (100% on normal).
Yellow xp bar shows you the xp you have gained from the most recent monster kills.
Also nice cleaver find: that modifier "5% chance of 25% health reduction" works on bosses as well, so if it procs it is godly.
Edit: also you don't need to hotkey your health & mana pots metal. Key binding to drink hp pot is R and energy is E.
Ethereal




Posts

: 1083
Transferred

---

Country

:

---



I could use that cleaver. My weapons are kinda wussy yellow ones. Love the scenery too. Collision mechanics are a little off so far during the fight sequences but that's my only minor gripe.

_____________________
We mortals are but shadows and dust, shadows and dust, Maximus!
I made .rar file (1mb) for sending from work to home. I can upload it or send it to you somehow.
I had pots on right click, but end up using it too much

some fingers can't stay calm during gameplay
I think i will have to look up key bindings and replace map from M to Tab, just for D2 theme.
Me too I'm used to Median hot keys. No it's ok. I'm sure I'll find something to use eventually. But thanks. If I find something good I'll let you know too.

_____________________
We mortals are but shadows and dust, shadows and dust, Maximus!
Ha,ha yeah I had the same problem the other way back: from Titan Quest to D2.
If I had to choose, probably I prefer TQ system though for a main reason: it is easier to spam a lot of different skills like mad without any need of skill/weapon switching (in any case, being a game that was released around 6 years after D2 it is pretty normal that it included some imporvements).
Just select there the shortcut keys you like most for each of those slots (in my case, for example I always use A (main skill after the ones that are being used on mouse buttons), S, D, Z, X, C etc...to have all the important keys around the static attack key (mays by default), as this last key is quite important too when playing the game: not only to spend less effort clicking mouse buttons, but also when playing for example a caster toon, with that key pressed the range of your spells will be longer.
And remember too that there is a secondary skills bar, so on toons that uses a lot of skill what you can do is place the auras on one, and then the skills on the primary bar once you had activated all your auras.
@Metalistas
: no worries, take your time and enjoy the game; there is no need to hurry!. And my fault: as it was long time ago since the last I played unmodded TQ I didn´t even remember at which level you arrive to Megara on vanilla game!.
In any case, for now I would keep on focusing on Warfare mastery until you had unlocked the basic skills on that mastery to get everything you need: a multiattack, a buff, etc...
Later, it depends on what you want to do; for example, Greg´s option is an awesome one (warfare+dream), and doesn´t have gear dependancy, which being a new player is also good.
Defense is always a nice option (in this case you will be dual wielding too, as the hits inflicted by the shield will hurt a lot later), has even less gear dependancy thanks to the block granted by the shield+a skill called quick recovery+using a green shield with a turtle shell enchanted on it...and colossus form is always fun to use on bosses fights.
With spirit and hunting you´ll never be wrong on Titan Quest, and the other masteries gives nice things too (but I guess are a little bit more difficult to balance, so I would discard them for now. LAter you will have all time of the world to try them: in fact, Warfare is also a nice option for caster toons, thanks to that godly -50% energy cost granted by battle standard and the crowd control (+life reduction) given by Battle horn).
Son of Lucion




Forum Human Rights Activist/TQ Lord

---

Posts

: 227


Country

:

---



No clue about second mastery yet, so i put all points into warfare - maxing onslaught and other good things. When rage triggers - i kill like mad man

I will try next mastery later and will try to play without restating as long as it works. No clue, but restat works on all stats and masteries ?
I cleared temple with 3 undead princes (traps are bad okay?) and have seen the cyclope at the bridge. First time i tried to kill him but ended up pausing game, saving and exiting. Second time i sneaked through him and went down on the beach. Found some creazy loot in cave:
Spoiler:
Strange thing but i get green/blue items from regular mobs and most of the uniques monsters give me crap white gears. I guess my luck is bad.
You cannot restat Masteries or points into the mastery bar. Nice weapon drops
When are you going DW?
Last edited by suchbalance on Wed Jan 14, 2015 7:03 pm; edited 1 time in total
Ethereal




Posts

: 1083
Transferred

---

Country

:

---



Page 3 of 16 •
1, 2, 3, 4 ... 9 ... 16

---
Permissions in this forum:
You
cannot
reply to topics in this forum