Page 1 of 4 • 1, 2, 3, 4

I just rage quit because a witch killed me for the third time making my way up A5 Frozen Tundra.

I think the most frustrated I have been was doing BRC and killing the two bow chicks within 30 seconds of eachother. Turned me into a raging crybaby.

The most fun I've had was either decking out an a5 merc, giving him insane stats and like 75k damage, and watching him wreck everything on p8 destruction a4/5, or with a shaman barb many patches ago, summoning about 50 defenders with 50k life each, hitting wolf stance and watching them wreck everything.
Thunderbolt




MXLU Addict #1

---

Posts

: 210


Country

:

---



Most frustrated seeing that i could bring BLaz down to 25% hp without fire shrine, dying, and afterwards getting a roll with fire shrine and couldn't damage him at all.

Funniest moments: Was trying to kill Belial and without noticing i killed another 2 replicas of himself. Another one would be when I accidentally one shotted MNX Boss.
The Smith




Mr. Nice Guy

---

Posts

: 3338


Country

:

---



I feel frustrated every second time when i roll anything rare with druid
.
Funny moments happens pretty often, recently survive witch's pounce with melee sorc in Tamoe Highland with~15% avoid.
Curst Guard




Posts

: 761


Country

:

---



The most frustrating moment I had while testing an amazon as an ureh farmer. Nuff said: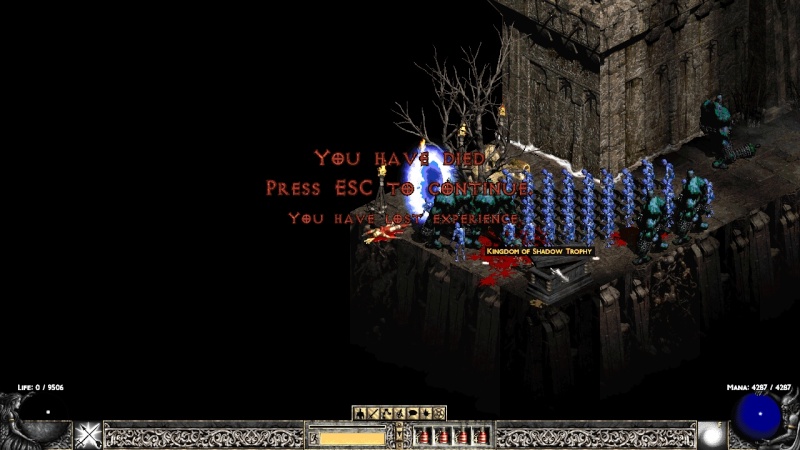 There were a lot of funny moments for me in MXL. The funniest one is probably the moment when Serafiends accidently die after pouncing on you. Happens every now and then.
Infernal Machine




Master of Stealth!

---

Posts

: 5649
Transferred

---

Country

:

---



#Stealthmaster
same happened to me last week and i failed
Most frustrating for me was something similar to this. I was doing Judgement day when suddenly i saw trophy on the floor and i cannot pick it up
Fairy Witch




Posts

: 320
2

---

Country

:

---



One particular Kabraxis run last ladder... I dont know if it was ping or something, but I took him to ~10% easily without deaths and then he kinda enraged and I died like 50 times. Doing Yshari with 3 more players ... the worm explosions were extra "fun".
Every day frustrations are server ping and duncraig off-screen barrels.
Madawc




Posts

: 3629
Transferred

---

Country

:

---



I remember being on my newbie single player and farming Toraja for days trying to get a Shaad...And one finally dropped, I died in my rush to pick it up. I had to fight my way (naked) through the frigid highlands to get back to Toraja to get my precious rune. Took me nearly half an hour. I learned a valuable lesson about casting tp's that day.
Corruptor Warlock




Posts

: 176
100

---

Country

:

---



Most rewarding, playing HC realm and getting several charms at 120. Most frustrating, playing HC realm and suddenly dying with nothing on the screen and no fucken reason to have died with some monster name leaving you going wtf?!?... happened several times...
Dark Nephalem




Posts

: 2946


Country

:

---



My first fight vs. Arihan, OMG.

Psn sorc, the bats are immune to psn while the alternate skill dmg was complete crap.
I died so many times. Enter TP -> Die -> Repeat
Of course I was playing on SP, so no rejoining.
In the end the entire area was infested w/ bats, everytime I would enter TP I would die, everytime I got into Messenger's teleport nova I would die.
I SO wanted to quit, but I thought quitting is for pussies, so I decided to respec for better dmg.
Pyroblast and Forcewall inate skill slowly got rid of the bats and after a long long time, with much patience I somehow managed to get the charm in the end. I was hoping for +5 pala and forget this uber.
Was +4 pala skills. Most frustating moment, never forget.
Prince Albrecht




Cool Font Guy

---

Posts

: 3022
Transferred

---

Country

:

---



agreed, fighting arihan made me want to jump of a bridge and is probably the most frustrating thing i've tried in median xl
Hardliner




Well-Sourced Debater

---

Posts

: 1630
Transferred

---

Country

:

---



Page 1 of 4 • 1, 2, 3, 4

---
Permissions in this forum:
You
cannot
reply to topics in this forum