Page 3 of 96 •
1, 2, 3, 4 ... 49 ... 96

another waste of XIS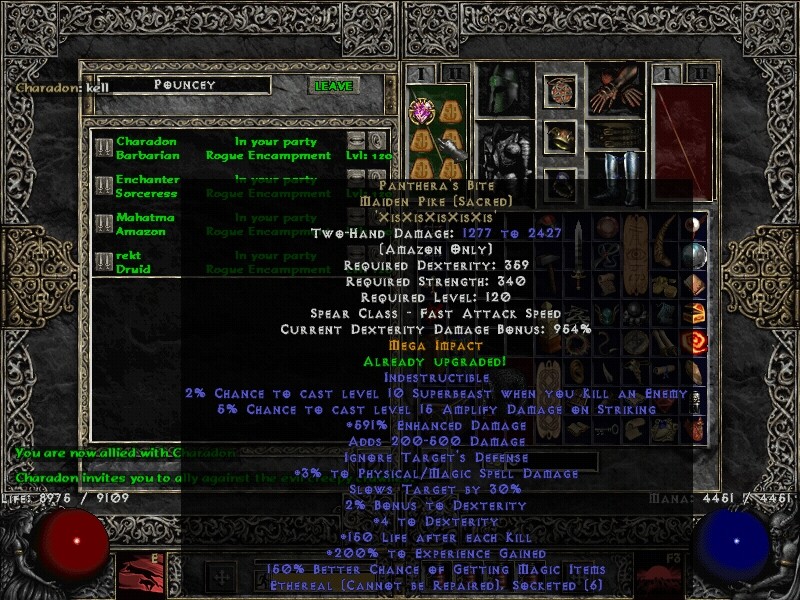 Spike Beast




Posts

: 412
None

---

Country

:

---



Hopeless




Twinktwat

---

Posts

: 948


Country

:

---



Spike Beast




Posts

: 412
None

---

Country

:

---



Dark Templar




♨‎ (ノಥ益ಥ)ノ ┻━┻ ♨ - Honorable Soldier

---

Posts

: 1211
1

---

Country

:

---



Found this item on my mule, turns out its pretty sweet.
Was kind of disappointed that stances don't affect necro minions...........tried the all is one 2 piece bonus
Aw damn, too many stats.
Last edited by Byteme on Tue Jan 27, 2015 7:37 am; edited 1 time in total
Ice Clan




Posts

: 89


Country

:

---



you just need + to enhanced stance radius I think. Spirit Walk cotw should work
Mangler




Posts

: 107
none

---

Country

:

---



Gekko is photobombing every SS.

I love the 200% experience gained on Panthera - most useful stat.
In fact, its too op and it should be replaced by stamina stolen.
Madawc




Posts

: 3629
Transferred

---

Country

:

---



When you hit 120 the %xp is converted into %mf
Goliath




Posts

: 2609
Transferred

---

Country

:

---



Heretic




Posts

: 163
Transferred

---

Country

:

---



@Metalistas

wrote:When you hit 120 the %xp is converted into %mf
Fixed
The Smith




Mr. Nice Guy

---

Posts

: 3338


Country

:

---



Page 3 of 96 •
1, 2, 3, 4 ... 49 ... 96

---
Permissions in this forum:
You
cannot
reply to topics in this forum