Page 6 of 11 •
1, 2, 3 ... 5, 6, 7 ... 9, 10, 11

I don`t know if you belive me...but i can`t farm fautz...those necrobots, won`t die...
Fairy ring is good against them.
Goona try it that way...i`d like to do the BRC...to get the last skill
ctc doom, 2 skills, ttad 31, min dmg 32...e ok?
incerc lucky...
[img]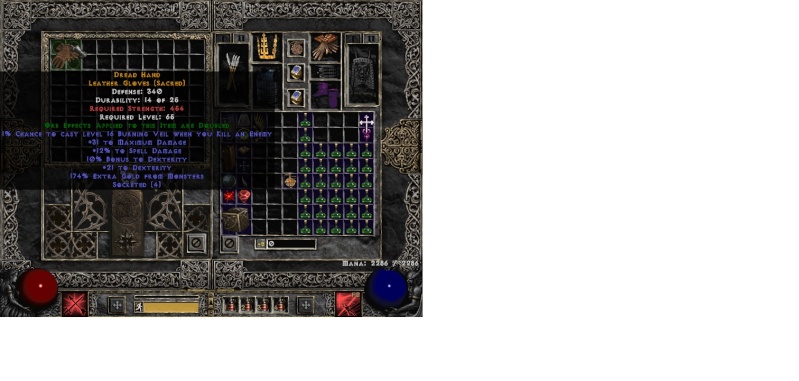 [/img]
are this good, RomanN?
with blessing, they should have 15%-20% dex and 40+ flat dex. Idk how good is burning veil though
Glowing Fungus




Posts

: 9


Country

:

---



Imho Kra javelin and TU chain mail are superior to almost any non-SU weapon and torso for this javazon, empyreans are also best ring choice. With meatshields from armor and fairy ring/rico combo you should do well in fauzt to get war spirit - very important skill for bow/java. However its sad but true: without Danmaku shield, any java will be very weak. Thats why early game bowzon wins over javazon.
Dark Lady




Posts

: 453


Country

:

---



Tencanek it's way more harder to do brc with bowzon than javazon
. If you go with a javazon by using smax balance, curare, you can do fauzt blindfolded, you are kind of invincible there. I'm talking from my personal experience. I've done BRC with javazon with cheap gear and only a couple of charms and I didn't have any problem at all. Yes, it is a slow process but it's death free. Also using a double MO TU6 glaive is a very good option in combination with TU6 jitan's and TU6 setzschild, fortresses and guardtowers will help a lot cleaning the place. Also Moonbeam is a must from time to time to keep your DR% and life orb full.
Roman, the gloves i posted, is what i got after blessing...
But wth do i do with that str requirement?
I have only 400 str and 2400(like 44%block chance) and i MOed rings,ammy, and some other things with str...should i respec and put points into str?
Page 6 of 11 •
1, 2, 3 ... 5, 6, 7 ... 9, 10, 11

---
Permissions in this forum:
You
cannot
reply to topics in this forum