So, i played a javazon, found danmaku, all was awesome...but then, i lost my body...everything except weapon and danmaku...now i can`t do s**t...so i thought i should start a nagisin.
Now i have some question...first of all, what would be the main attacking skill?Crucify?i thought about maxing all 3 passives(3xways +laser blade), max perfect being, i`m using 1p SHADOW REFUGE for the DD buff.
As for items: Linga Sharira rune word armor, Ahriman runeword belt, and crafted circlet, gloves and boots.Dunno what ring + amu should i use, and what to mo on my items.
[img]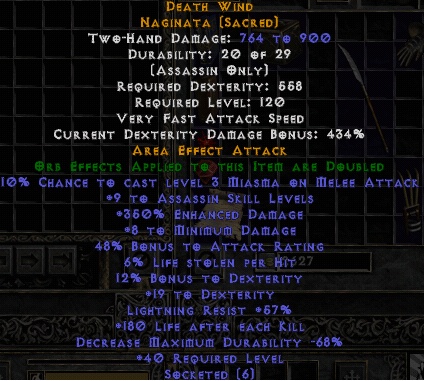 [/img]
Some break points, please? some gear suggestion?a skill plan?
Ty very much!
smax wotp, wotg, pb, laserblade, 9 in blink, 1 sr, 1 barrier strike, 1 crucify. Use sr for buff, barrierstrike for crowd control, crucify to kill. After buffing constantly alternate between barrierstrike and crucify, like 1 attack barrier, next 2 attacks crucifies. You can use amu with +skills, doom, ttad, sotnk or empyrean band rings. 200 fhr is a must, dunno about IAS though. You really need a better naginata then the one you are using know. Focus on a craft with SoR or spikenova, max ed, high max damage (700+). Use Yul RW circlet until you find something better. For gloves and boots focus on zomg dex crafts with high dex, ed, and -30 efr, -30 elr.
You, i love you, how the hell do i give you a coockie?

As for those, no smax wots?
And on naginata, skills aren`t a must?
What is sotnk in rings category?
If you can get +sin skills even better! It's recomended. sotnk = seal of the nephalem kings. Max wots isn't worth it unless you find Stormblade. You can only give a cookie if you have a cookie by clicking the + button from the reply
.
How do i get cockies?
And,even better, if i get the sacred one called Frysturgard, right?
i had it...but i disechanted it...
(
Well all did that once. Here's your first cookie
.
You deserve it for all the help, TY!
Btw, from where are you?
Romania, but, city?
Targu Neamt as hometown, Iasi as I am a student.
Oh, "moldovean"...
well, my father is from Targu-Frumos and my mom from Bacau!
So, i guess we are alike...
I was farmin duncraing and i got Armor of the old religon...and i have a lvl 120 sorc...i may start to play it !
---
Permissions in this forum:
You
cannot
reply to topics in this forum