Hey guys!
So, after tinkering around and reading guide after guide, I finally have my first lvl 120. As the title suggests, she is a pouncezon, and I had a lot of fun leveling her. Seeing as this is my first time getting to this point, I was wondering if a few of you vets could help me prepare for my transition into mid-game. I am currently working on getting my BRC done for the first time, but it seems I need a bit of reworking to be able to complete it. Haven't tried Trial of Blood yet. Made my first trip into TFauzt and quickly noticed that I need to do something different. Having never been there, I took my time and tried to pull just a few guys at a time, but I get overrun quickly (especially if I'm being PewPew'd and surrounded by Hardliners...) Any and all suggestions would be awesome. I put in my skills and gear so you guys can tell me what you think. Should I replace anything? re-do skills? Keep in mind that this is my first lvl 120, so I don't have any set items or usable SU/SSU/SSSU or charms other than sunstone, Harkon, and class. Currently farming sigs a bit at a time (gets old).
Skills:
21/22 Hyena Strike, 20/21 Pounce, 42/42 Lioness
10/23 Wild and Free, 20/21 Balance
2/8 Spellbind, 7/8 Curare
non-mentioned 1 pointers for prereqs
Gear:
"Rusalka" RW Sacred Maiden Pike
T6 Jitan's Kamon Splint Mail
T6 Snakehair Cervelliere
T6 Deadfall Heavy Belt
T6 Lionpaw Chain Boots
T1 Honorific Gloves MO'd with res all, str, and dex
Rare neck with +3 skills and -EPR
Rare ring with +1 skills, -EPR, and %MF
Rare ring with +1 skills, ctc Vampiric Icon when struck, and LAEK
Sockets filled with +max res gems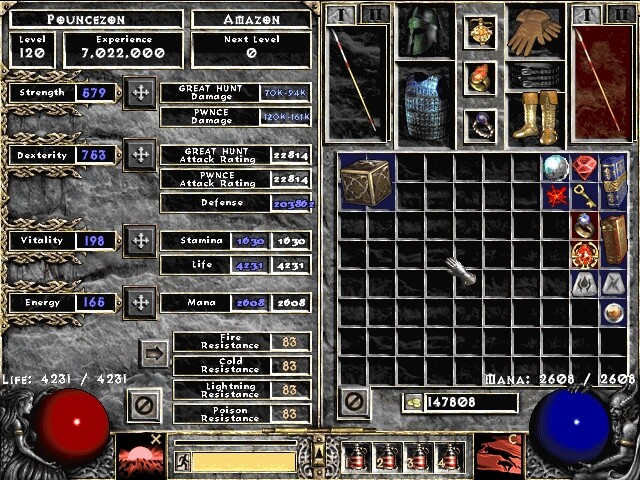 Not sure what other info to include, so just ask if you need to know something. Again, any help would be great. Thanks guys
I'd replace boots with a lvl1 dex craft (Abandonned Shrines), try to have a nice %dex and lvl 30-40 lvl req

Jah in an amazon helm for good dmg

Be sure to hit -100% enemy poison resist since you use curare  (When undergeared, I personnaly prefer SoV wich helps surviving with her aura and the fact that she is invulnerable and teleport with you*)

You could also either do a T6/Sacred honorific gloves, n put Pgems in it. The mo lost are getting compensated by the Gems imo OR do a low lvl dex craft, like with boots.

Also i don't think you need 83 all res that early without charms. Go for P amethyst, it will increase you dmg and defense.

That's what is on top of my mind right now.

Also, before doing BRC, consider doing the easy charms (Butcher, Optical detector, Zakarum ear, DP, Horazon focus, scroll of king, worldstone key, etc..)
Meeting the %IAS cap is crucial - 174% IIRC. Then you need as much %DR as possible, and then the %FHR cap which is important, but not as much as the other two. Keep in mind that defense is probably your most valued stat. %LL MO's on your crafted/RW weapons is a must as well.
Madawc




Posts

: 3629
Transferred

---

Country

:

---



Thanks for the speedy reply. a few things.
When you say lvl 1 dex craft... Do you mean burn the boots down with ZOMG HELP? And do I roll with abandoned? or bless?
A good majority of my damage is coming from Curare. Are you saying drop it for SoV and then spec back into it when i have better stuff later?
Also, considering I have ZERO experience with ubers, is there a noob friendly guide for early charms somewhere that I'm just not seeing? most guides I've found assume I have more knowledge than what little is said about each one in the docs, which for me, isn't really helpful at the moment.
I really appreciate it
I'll try some of that stuff now and see how it comes out for me.
To Wotan:
What is the best way to get to those caps? My %IAS is really low (30%) and %FHR is decent (113%). Do I need to remake stuff and look for those stats? or is there an easier way?
Last edited by Raynekloud009 on Thu Jun 04, 2015 4:53 pm; edited 1 time in total (Reason for editing : new post)
Never go for anything other than Curare. Pounce without Curare is as useless as WDM assassin without ways. Yes, he meant ZOMG recipe, then make them rare and then start crafting and blessing with abandoned shrines. Aim for low level craft so you can have room for more MO's.
As for Ubers, I have to pass explaining cause I am at work and about to go home in a bit
Madawc




Posts

: 3629
Transferred

---

Country

:

---



lvl 1 craft means to ZOMG yup and then making it rare and rolling with Abandonned shrines
I personnally prefer SoV until I have better gear/charms, that will help my survability. So yeah when you have better things than t6 n crafts and have some charms, you can go with curare.
For ubers, you may have some difficulty since you are melee, but with a merc, summons, SoV and a couple of death, you should be fine.
For ubers:
Butcher: have about 5-8 elementals at all time around you (no SoV for this one) Have a nef runeword staff on your alt weapon (W) let the butcher hit your elementals. He has a chance (idk%) to make a Big Star appear on the ground when he hit someone ( It's crazy big and Red, you can't miss it.) When it spawns, teleport behind it, so the butcher have to come meet you in it. Pounce that fucker do as much dmg as you can until you die, he dies or is vulnerability runs off
Optical Detector: There is only elites monster in there. Keep your summons and SoV n pounce everywhere. The boss is a stationnary tower that cast deathstrike from time to time: avoid it. Pretty straightfoward uber really, and if you can kill elites, you can do it.
DP: Don't use Sov here nor any summons (you could use curare for that one) The boss is a stationnary tower that cast a clockwise death spiral from time to time and a counterclockwise one when it get damaged(%)
There is a bunch of untargettable mobs around it that need to stay close to it, or it will be immune. Just run clockwise to keep them away and hit the tower from time to time.
Horazon Focus : Meleeing him is tedious. Use Curare for that one. When you get hit by a monster in there, you get granted with a state that makes you invulnerable to the death ray of the boss. If they're all dead, you can summon more with dark summoning. You can also just yolo it with curare: hit him some-->die-->Rinse n repeat. Might be boring n long, but it should be easy.
Sec..
E:
Even better ( Guide for all ubers)
E: It's an old guide, but the core is still the same **
I was looking in my stash earlier and I'm curious. Would it be easier to Spec into Bow until I have a few charms/set pieces/SU? I have an SU bow that I found on my Druid (Serpent Angel Short Battle Bow). This being the first time I've ever been high enough to really even attempt Ubers, and I feel like melee probably isn't the best first character for it. Thoughts?
Pounce to farm charm is not that good, it's better for farming places when you have charms n good gear. Charms will be way easier with a bowzon
---
Permissions in this forum:
You
cannot
reply to topics in this forum