Hello everyone!
I am quite new to Median XL, hence explaining why i am having trouble in Terror (Act 5 to be more precise). I have a level 114 ATMG is what I think it's called, or from guides i've looked up, Assassin (using a Naginata). I have read on most guides that TU 6 should be no problem in going through every difficulty. But here i am stuck... I am kinda new to Diablo as of whole (have played it before but a long time ago). I will post my stats and gear, and hopefully you peeps can help me out with some advice.
Gear:
http://imgur.com/iasP21f
Stats: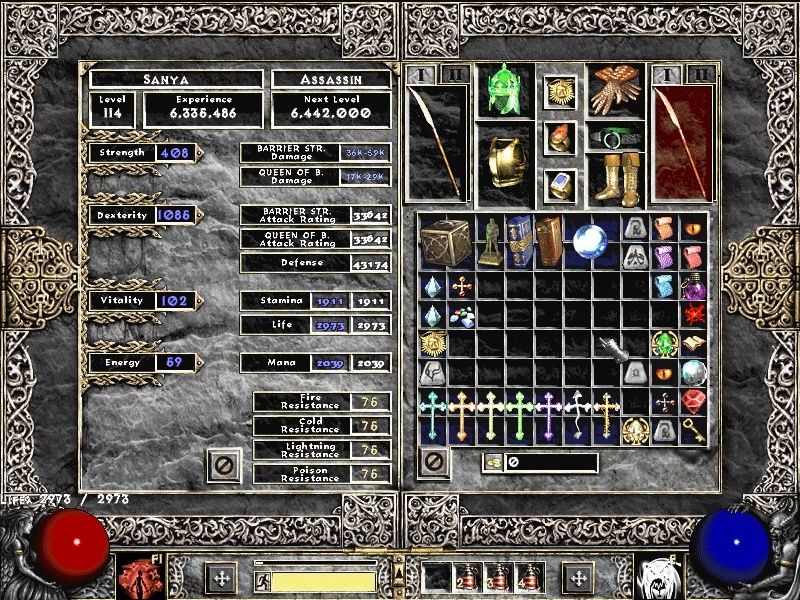 Talents: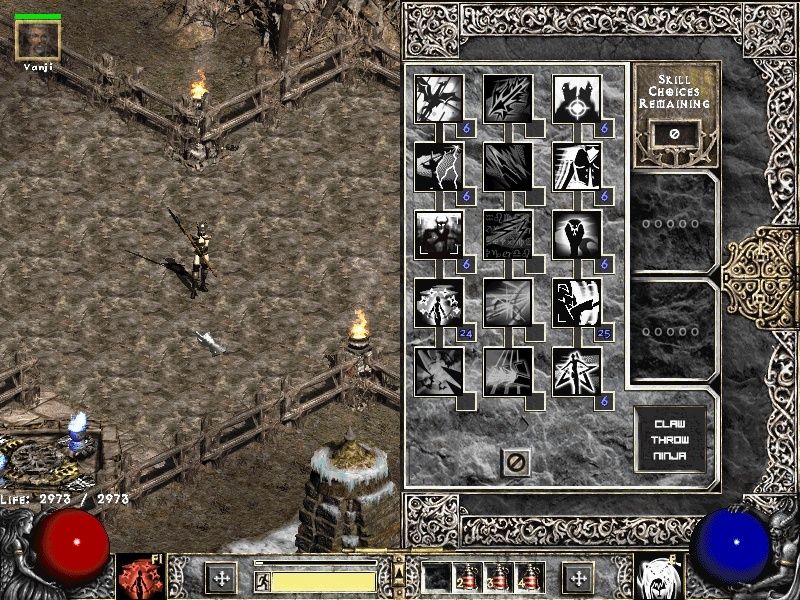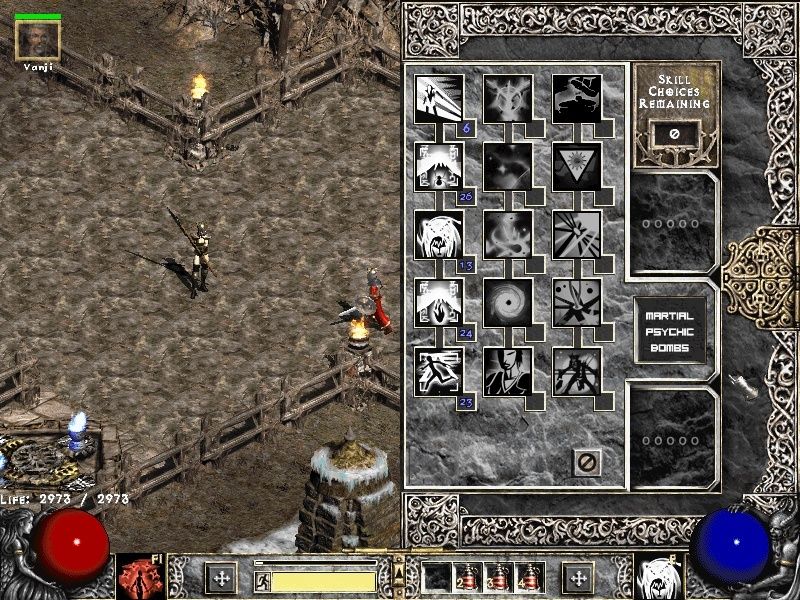 Gear - I just farmed up some Arcane Crystals from Tristram from Special Box, looked up the tier uniques and chose from there and made my current gear pretty much
Stats - just enough strength to equip the gear and rest went ham into Dex
Talents - i just picked the ones i liked the most i guess...
I am currently getting rekt big time by the Ancients on /p1. I have been doing Terror as of whole on /p1, otherwise i would get popped in an instant. A big thing i can't understand is how are people stacking up like 100k defense, as i have seen on videos and guides. I barely got 43k i think when going max with MOs for enhanced def and total char def on my gear. I don't think my dps that much of a problem, because i tend to burst down normal mobs in 1/2 hits. The only way i manage to survive is purely by lifestealing so much, but if i encounter a ranged mob, or one that can 2 shot me, i am pretty much f*cked due to my low health pool. And at this point i dont even want to think about Son of Lucion and their insane poison damage... I really have no idea what i am doing wrong (yes i am walking all the time), because i see people clearing destruction with just honorifics.
I hope i provided enough information for my kind hopeless case.
yea nagisin hits a wall somewhere around there... people will probably tell you to switch to throwsin or something.

_____________________
"Zu jeder Zeit, an jedem Ort, bleibt das Tun der Menschen das gleiche."
Creature of Flame




Bloody High Five

---

Posts

: 5572
none

---

Country

:

---



Jah runes for weapons, Io/amethysts - for other parts. Always get 350 ED on weapon/armor with mo orbs. Rest should be life leech then max damage.
Swap armor for queen of glass or jitan kamon. Enchant it also to 350 ED. Do not enchant with total char defense - defense is not so important for sin, other character have total char defense on skills, sin does not.
Rings - get empyrean bands or random +1 skill/whatever ring
Amulet - dreamcatcher or good rare 2-3 skills/lava pit on attack/life from oil of renewals.
Helm - get cauldron runeword.
Any free MO fill with faster hit recovery/faster cast rate (for start you can get 86 and 92 respectively, for better get calculator from forum for end-game breakpoints), rest in -poison/fire/light.
Blade barrier good for large packs of enemies, for single or ancient use crucify of backstab.
Skills - 1 point blade barrier, max in shadow refuge for damage reduction and duration. Be sure to always get 50% damage reduction from gear (nagi) and shadow refuge.
Also get a 2-2.6 cooldown on blink from less points in queen of blades.
If you still have trouble with ancients but want to do them now, just kite them and let QoB kill them with poison.
Devourer




Posts

: 39


Country

:

---



Terror/dest A3-A5 are places where the difficulty ramps up for nagi.

Dump way of the spider, you're all about direct damage. You need those points elsewhere.

Dump barrier strike, it's a one pointer, you need those points elsewhere and laserblade already gives you magic damage. Crucify should be your main attack skill.

Put 9 points in blink for less timer.

Put one point into wychwind (with a ctc knife throw throwing knife on switch), this is your boss killer. You can also farm dest dunc with one point ww and rare gear. Get this even if you don't want to use broadside.

Max broadside. Plop this and switch back to nagi. This will deal with all those unpleasant mobs.

Leftovers into shadow refuge (till you hit 50% dr) and queen of blades.

You need to keep hitting things to stay alive, low FHR makes you stop hitting things - make sure you have at least 86 (4 frames), preferably 200 (3 frames). Right now you have 30 (6 frames).

If you skip broadside, consider socketing Perfect Turquoises until you hit 95% max poison res. Poison is the source of many deaths for melee nagi in the normal game because of low health pool.

Get TU6 heavy belt.

AND ABOVE ALL ELSE, stop using F1-F12 keys, use qwerasdfzxcv instead, with all melee attacks in RMB (right mouse button), never LMB. Click and hold RMB in empty space, then move your cursor over enemy mobs to attack. Never let go of RMB.
Last edited by cowking on Fri Jun 19, 2015 2:43 pm; edited 16 times in total
Clawstorm Terror




Posts

: 307


Country

:

---



https://www.youtube.com/watch?v=43AO5UivNc0

This is what you should get. Most of them are easy to get without having charms. You should do all your minigames and brc in terror. Rings can be replaced by empyrean bands or rare with ctc supernova, 1sk (a must) and pierce (fire, lightning mainly). Also crafted naginata with SoR is better than what i have in that video.
The Smith




Mr. Nice Guy

---

Posts

: 3338


Country

:

---



@Wyrmfaust

wrote:...I have a level 114 ATMG is what I think it's called...
You're a nagisin.  ATMG sentry is a skill that spawns on crafted assassin only shields and claws.  just fyi

Bane Hunter




Evil Protato

---

Posts

: 398
Transferred

---

Country

:

---



Okay. Ill swap Chest piece with Jitan, belt has been replaced with a heavy one, i will go with the talents from cowking, since i don't want to get smashed in the face by a boss which = certain death. Will try to farm up to replace rings, and try to get the cauldron runeword for the helm. I will report the results probably tomorrow, since i will need a bit of time to farm up the items.
Well Terror is cleared now! Altho after replacing all the mentioned above, my damage and defense dropped quite a bit, sadly. Any tips on what i should craft/find from now on? And preferably a link on how to do it?
You need to know a thing. Higher defense decreases the chance of you to be hit, higher damage reduced% decreases the damage you take. You should mostly focus on DR%, life, ll%, fhr%, that's what's nagisin about. For crafts see the video I posted earlier. For how to do it, read the docs.
The Smith




Mr. Nice Guy

---

Posts

: 3338


Country

:

---



---
Permissions in this forum:
You
cannot
reply to topics in this forum